Faced with a scary diagnosis, Helen Bender Bailey fights melanoma with the help of immunotherapy, family and community.
Published Jul 14th, 2023
This article first appeared in USA Health magazine. See the full issue online using Issuu or download the PDF.

By Carol McPhail
cmcphail@health.southalabama.edu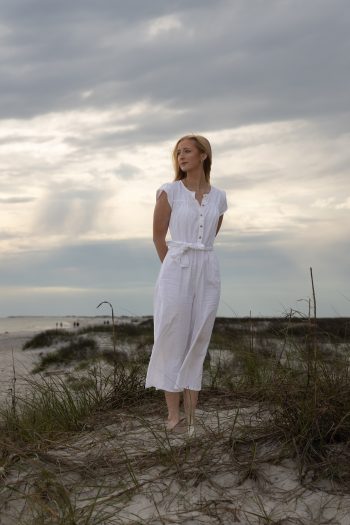 "It was the best trip of our lives."
That's the way Helen Bender Bailey of Mobile describes traveling to Italy with her parents and her older sister in May 2022. There's a photo of the 26-year-old beaming at the camera as she strolls down a cobblestone street with her arms around her sister and father.
"We bonded so much," Bailey recalled. "We had always been close, but we got closer."
During the 10-day journey, she tried to set aside worries about her health. During her annual checkup, her doctor noticed something on her lungs. Bailey worried that melanoma, a skin cancer diagnosed and treated years earlier, had returned. Still, she convinced her doctor to postpone further tests for a few days.
During the trip, Bailey kept the news to herself. The only sign of a problem was an unusual bump on her jawline. "I pushed it to the back of my mind and decided to go enjoy the trip," she said. "My parents were so excited."
Two days after they returned, Bailey had a CT scan and went home to her apartment to await the results. The doctor's office called and asked her to come in immediately. "I knew it was something bad," she said. "I didn't want to scare my parents just yet, so I went by myself."
The scans revealed that Bailey's melanoma had returned and had spread to her chest and abdomen. Melanoma, the most aggressive form of skin cancer, had appeared on her shoulder during her teens but had been removed. Hearing the bad news years later was surreal. "I remember the whole room blacking out," she recalled. "I could kind of see the doctor's face and knew what he was saying but didn't (fully) understand it."
She immediately called her then-boyfriend, Alec Bailey, who joined her to review the next steps with the doctor. She and Alec Bailey had known each other since attending Catholic schools near each other and had worked together at The Booth at the University of Alabama. "That was the saddest part, seeing his reaction," she said. "You're giving everyone you love the worst news ever. Obviously, it wasn't my fault, but you hate that you're causing them so much trauma."
Next, Bailey had to find a way to break the news to her family. Somehow, that task felt scarier than receiving the diagnosis herself.
The doctor called her dad, John T. Bender, who was seeing an eye doctor in Baldwin County. Bailey's mother and sister were in New Orleans, but when they arrived home, her father met them at the door. "He said, 'Helen's cancer is metastatic, and it's either stage 3 or 4,'" her mom, Andie Bender, recalled. "I felt like I was going to pass out. It was truly the worst news I've ever gotten in my entire life."
Soon, they would learn more about Bailey's diagnosis. A PET scan, which uses a radioactive tracer to show organs and tissues, revealed tumors in 16 places in her body.
"Crazy day. I felt like I was just floating along while people were scanning me and testing me," Bailey recalled. "Once I got the diagnosis, there were so many people who were taking care of me and making sure I was OK. Everybody was taking me along with them."
Bailey and her family made an appointment with Brian Persing, M.D., chair of medical oncology at the USA Health Mitchell Cancer Institute. "We had only had a day to sit with the news and were so scared to hear what options we had," she recalled.
Persing chose his words carefully and took his time explaining Bailey's cancer. "Information and education are two of the most important tools with which we arm our patients, their friends and their families," he said. "The unknown leads to anxiety and, at times, more fear. The better your patient understands their cancer, the more control they have over the situation and the greater autonomy they have in the decisions that they are able to make."
At the family's request, Persing connected them with an oncologist at MD Anderson in Houston, but he also wanted to stay in touch throughout Bailey's journey. "He gave us three separate ways to contact him, including his personal phone number," Bailey said. "He is a true treasure."
"Fighting cancer and Houston traffic at the same time!" her mom, Andie Bender, wrote on Facebook on June 3, 2022. The family was heading home from Houston after more scans, a biopsy and genetic testing to help determine the best treatment option.
In the meantime, Bailey had been taking injections in her abdomen to prepare for freezing her eggs prior to cancer treatment, which can affect fertility. The hormones cause mood swings, and the process was painful but successful. "I have nine healthy eggs that someday I can hopefully do something with," she said proudly.
After the evaluation at MD Anderson, it was decided that Bailey would receive infusions of ipilimumab (Yervoy) and nivolumab (Opdivo) every three weeks for three months, then transition to just Opdivo. The entire ordeal would take about two years, doctors told her.
Bailey wanted a "last hurrah" before she started treatment, so she and her sister, Virginia Bender, made plans to go to Hangout Fest, a beachside music festival that attracts tens of thousands of people to Gulf Shores each spring. They also summoned the courage to reach out to one of her favorite artists, Zedd, a Grammy-winning electronic music producer and DJ, who was slated to perform at the event.
"We messaged him and said, 'I'm about to start chemo, and I don't know what my life looks like from here. If we can meet you, whatever you can do to make this experience better, we would love it. We are huge fans,'" she said. "In eight minutes, he replied, and we had backstage passes."
What Bailey thought would be a meet-and-greet turned into much more. As a crowd of thousands looked on, Zedd gestured to Bailey to join him on stage. He asked fans to hold up their phones to light the darkness and introduced her. "This is my friend Helen. She's going through a hard time, and let's give her some love," Zedd called through the microphone.
Soon, the crowd was chanting, "Hel-EN! Hel-EN!"
Zedd kicked off one of Bailey's favorite tracks, his electronic dance remix of "Alive" by Empire of the Sun. Those thrilling moments show a pig-tailed Bailey bobbing to the music and hugging the artist as tears streamed down her face. "That should have absolutely been the darkest time of my life," she recalled. "But that made the whole weekend from beginning to end fill with joy and excitement."
For the first two months of her treatment, Bailey suffered from constant fever and violent shaking – the side effects of immunotherapy. Then doctors enrolled her in a clinical trial that tests the use of a rheumatoid arthritis drug to reduce those symptoms. Thanks to the trial, she was able to tolerate the treatment much better.
In mid-July, following an infusion, Bailey wanted to attend a wedding in California, but her friends begged her to come home. She was suspicious of their insistence until one of them hinted that they were holding a surprise cancer benefit for her at a house on Dog River.
The day of the party, she prepared for the surprise. As Alec Bailey followed her across the yard of the river house, she was greeted with a completely different surprise. He tapped her on the shoulder, dropped to one knee and opened a jewelry box containing an engagement ring.
Bailey was ecstatic.
Hiding in the bushes, Virginia Bender captured the joyous moment on video when her sister threw her arms around Alec Bailey, and he lifted her off the ground in a tight embrace.
The couple were married on April 15 at St. Joseph Chapel on the campus of Spring Hill College in Mobile, with a reception at the Ezell House on Conti Street.
Although Bailey continues to have doctor appointments at MD Anderson, she and her family asked to schedule her infusions at the Mitchell Cancer Institute in Mobile so they could remain close to home as much as possible. "We also wanted the opportunity to continue our relationship with Dr. Persing," her mom said. "We are so grateful for the doctors, and we believe that God has guided them."
By fall, all of Bailey's tumors were shrinking, providing hope that she could reach remission sooner than the expected two years. When the good news was posted on her Facebook blog, Helen Bender's Journey, friends and family from across Mobile weighed in with hundreds of comments and words of encouragement. "Everywhere I go, people come up to me – even people I've met once or twice – and say, 'I'm on my knees every morning praying for you that God brings you strength,'" Bailey said. "It makes me appreciate where I'm from."
The family has received an outpouring of support – constant calls, prayer cards, prayer blankets, meals and more – "lots of really sweet, thoughtful gifts," her mom said. "The community has been unbelievable."
Bailey describes herself as "dangerously optimistic" and upbeat, a point driven home in old video footage posted on Facebook. In the video, a preschool-age Bailey in a pink hair bow grins playfully at the camera as she sweeps her arms back and forth, asking, "You're about to smile, aren't you?"
Despite everything, grown-up Bailey is still smiling and trying to get others to smile, too. And, now she is in remission from stage 4 melanoma.
"It's crazy that I went from being told I might die to feeling fine and doing great," she said. "You definitely have that feeling of, "Why am I here? Why has God allowed me to have that second chance?' I'm living a normal life but hoping I can do something big with it someday."