"I have been permanently changed in a great way." Cam Marston sings praises of University Hospital's Comprehensive Stroke Center
"People keep telling me that it is a miracle I had a stroke and have no long-term effects from it, but the miracle is truly in Dr. Nisar's capabilities and the team at University Hospital."
Published Jun 12th, 2023
By Shelbey Ernest
sernest@health.southalabama.edu
You may have read one of Cam Marston's books or heard his familiar voice on Alabama Public Radio, where he's the host of the popular show "Keeping It Real."
A few weeks after experiencing a serious health scare this spring, Marston was true to his word and kept it real with his listeners, sharing a series of events that started during his daily workout at a local gym and ended with him walking out of a hospital following a life-saving procedure less than two days later.
March 21 started out as a normal day in the Marston household. Marston and his wife, Lisa, had coffee, and got three of their four kids off to school. Then, Lisa went to a dentist appointment, and Marston headed to the gym.
Once there, he hopped on a treadmill to run a warm-up mile, a daily ritual. As his feet moved under him, Marston started to hear a fluttering sound. "It was strange," he recalled. "I stepped off the treadmill, and I could tell it was not an external sound, but it was quite literally around my brain."
Once the noise subsided, Marston stepped back onto the machine.
"At some point, I leaned up against the wall and Rosshiki was yelling at me to quit being lazy," Marston said. "Then my memory is foggy."
Rosshiki Leatherwood, the owner and lead trainer at Next Level Fitness on Springhill Avenue, runs a tight ship. "I was getting on to him for taking a break on his warmup, and I noticed Cam was trying to talk, but words weren't coming out," he said. "His face began to droop on the left side, and I immediately realized he was having a stroke and yelled for someone to get to him."
The next few minutes were a blur. Others in the class rushed to Marston's side, helped him to the ground, and called for an ambulance. "I could hear people saying, 'he's having a stroke!' and I was thinking, 'well, go help him!'" Marston said. "I had no idea they were talking about me."
What was happening to Marston is a common occurrence in the U.S. Strokes are the leading cause of serious long-term disability in America and are caused by something blocking a person's blood flow to part of their brain or when a blood vessel bursts, according to the Centers for Disease Control and Prevention. Someone in the U.S. has a stroke every 40 seconds, and research shows that every three and a half minutes, someone dies of a stroke in America.
The people who jumped into action to save Marston wanted to make sure he didn't become another sad statistic. As an ambulance arrived that morning, a gym member, Sarge, jumped out onto the road to block traffic so the emergency vehicle could get in and out as quickly as possible. Others took cellphone video to mark the progression of his symptoms.
Once Marston was in the ambulance, Leatherwood told paramedics to go to USA Health University Hospital. "I knew from all the recent news stories that University Hospital was the only one in our region equipped to handle strokes."
As the events unfolded, Marston's wife received an urgent text: "Cam is having an emergency. Call me."
"I remember just being in shock," she said. "My mom has had three strokes, but it just did not make sense that my husband — who worked out every day and stayed on top of his health — was having a stroke. I was so thankful for everyone there who knew what to do and had the capability to make all the decisions needed to get him to the right place."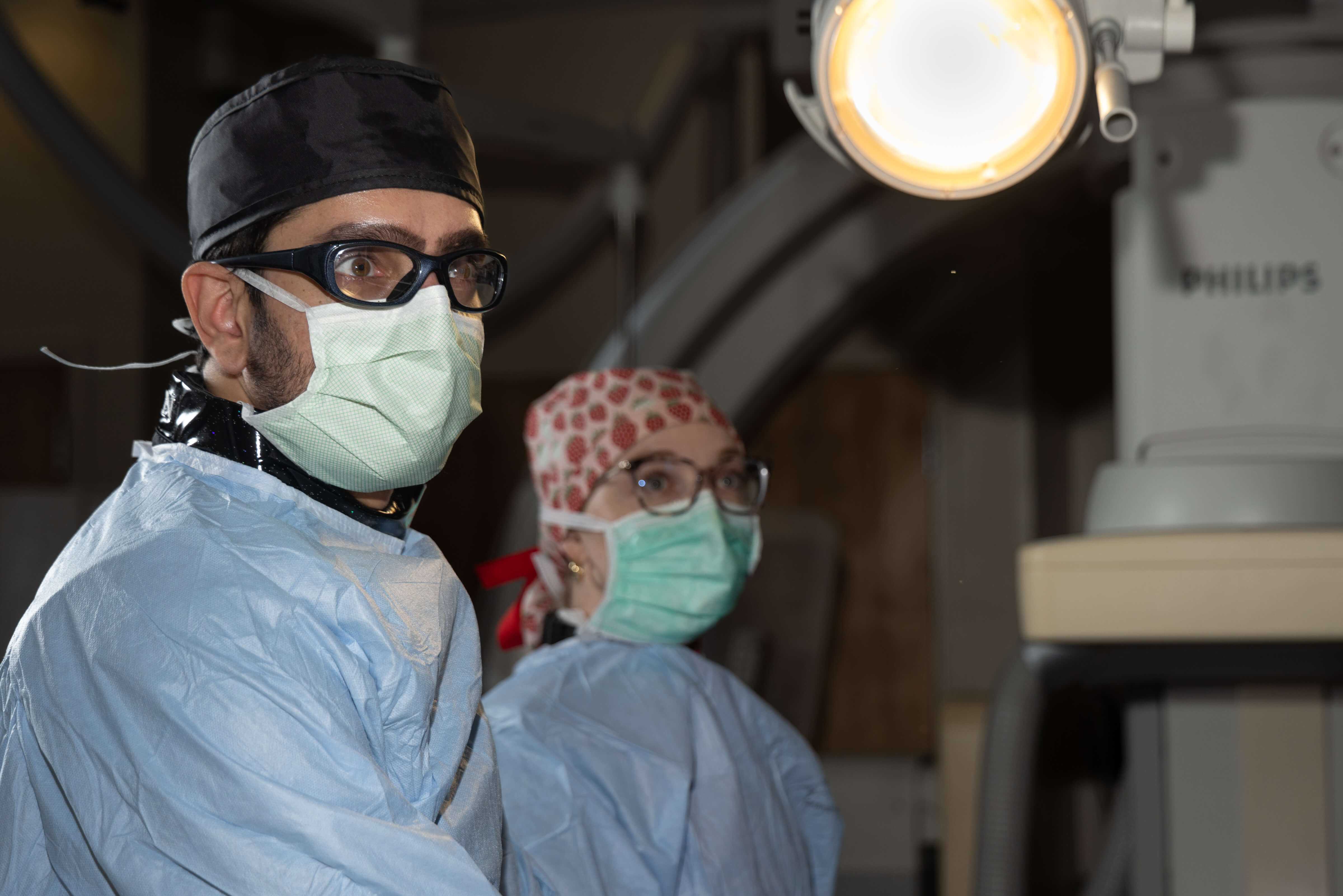 When Marston arrived at the emergency department, he was rushed in for a CT scan to check for brain bleeds. During that time, he met Taha Nisar, M.D., a neurointensivist at University Hospital, the region's only comprehensive stroke center. Nisar told Marston he needed to get prepped for surgery. Within minutes, the patient was wheeled into a medical suite outfitted with state-of-the-art equipment for stroke intervention.
Just before the surgery, Nisar looked at Lisa, who was standing by Marston's side, and told her what needed to happen. "He explained to me that … time was of the essence, so I told him to do what he needed to do. In that moment, I had complete confidence in a man I didn't know."
During the procedure, the physician navigated a catheter through the femoral artery into the right middle cerebral artery that supplies blood to the right side of the brain. "Once the location of the clot was identified, we were able to retrieve it and restore blood flow," Nisar said. "The total time for the procedure was right at 30 minutes, and immediately after, Marston's left-sided weakness was resolved."
While there are two major types of strokes — ischemic and hemorrhagic — Marston had something known as secondary to "embolic stroke of undetermined source" (ESUS). Like the name suggests, ESUS strokes have no known cause and account for up to 40% of all ischemic strokes.
Miraculously, in less than 36 hours, he was able to leave the hospital and attend his son's high school track meet.
On average, only 10% of people can achieve full, functional independence 90 days after similar stroke removal procedures. Nisar says his patient's prognosis is excellent.
"People keep telling me that it is a miracle I had a stroke and have no long-term effects from it, but the miracle is truly in Dr. Nisar's capabilities and the team at University Hospital. I'm just the recipient," Marston said.
Nisar credits a series of positive factors in ensuring Marston's positive outcome. "Between Leatherwood recognizing Cam was having a stroke and the gym members recording Cam's progression, the EMTs were able to administer the clot-busting medication (recombinant tissue plasminogen activator) within minutes after their arrival."
"I could not be prouder of our city and University Hospital for having the ability to treat strokes so efficiently and quickly," Lisa said. "Now, Cam can use his platform to bring awareness to strokes and talk about the care he has received right here in our city."
Alabama has the second-highest stroke rate in the United States, notes the CDC. Fortunately, there are ways to prevent certain kinds of strokes. The best prevention, Nisar said, is keeping your blood pressure and cholesterol under control and quitting smoking.
"It is important for everyone to know the signs and symptoms of a stroke in case they are bystanders to an emergency like this," he said. "It can ensure the stroke patient receives adequate and timely care, and it could save their life."
About USA Health
USA Health is the only academic health system along the upper Gulf Coast. With nearly 30 care delivery locations, including USA Health University Hospital, USA Health Children's & Women's Hospital, the USA Health Mitchell Cancer Institute, and physician practices throughout the area, the health system melds clinical care, research, and healthcare education into the most advanced medical care in the region.