When Chelsea Burns found out her two-week-old son, Landen, had sickle cell disease, she felt blindsided. "There were a lot of emotions," she said, recalling the day more than 10 years ago. "The doctor handed me a box of tissue."
Published Jul 9th, 2019
By Casandra Andrews
candrews@health.southalabama.edu
When Chelsea Burns found out her two-week-old son, Landen, had sickle cell disease, she felt blindsided. "There were a lot of emotions," she said, recalling the day more than 10 years ago. "The doctor handed me a box of tissue."
Her son's pediatrician referred Landen, then an infant, to the USA Comprehensive Sickle Cell Center where a team of physicians and other providers specialize in treating children and adults with blood disorders such as sickle cell.
Burns will never forget the nurse who first helped ease her fears about caring for her newborn. "Stephanie was heaven sent," she said. "When I asked 'What do I do now? She said "you live and you allow him to live."
Landen, who will enter fifth grade at E.R. Dickson Elementary School in Mobile this August, was recently selected to represent USA Health Children's & Women's Hospital as the Children's Miracle Network Champion for 2019-2020. As an ambassador, Landen's smiling face is emblazoned on donation cards posted at local Publix grocery stores as well as area Walmart locations and other businesses who support specialized care for sick and injured children in our community.
When he's not making appearances, the 10-year-old with a warm smile likes to do what other kids his age do: play Fortnite and shoot hoops.
"One of Landen's talents is making people laugh," his mom said. "He never meets a stranger. Even when he's in pain, he smiles. He is such a happy child."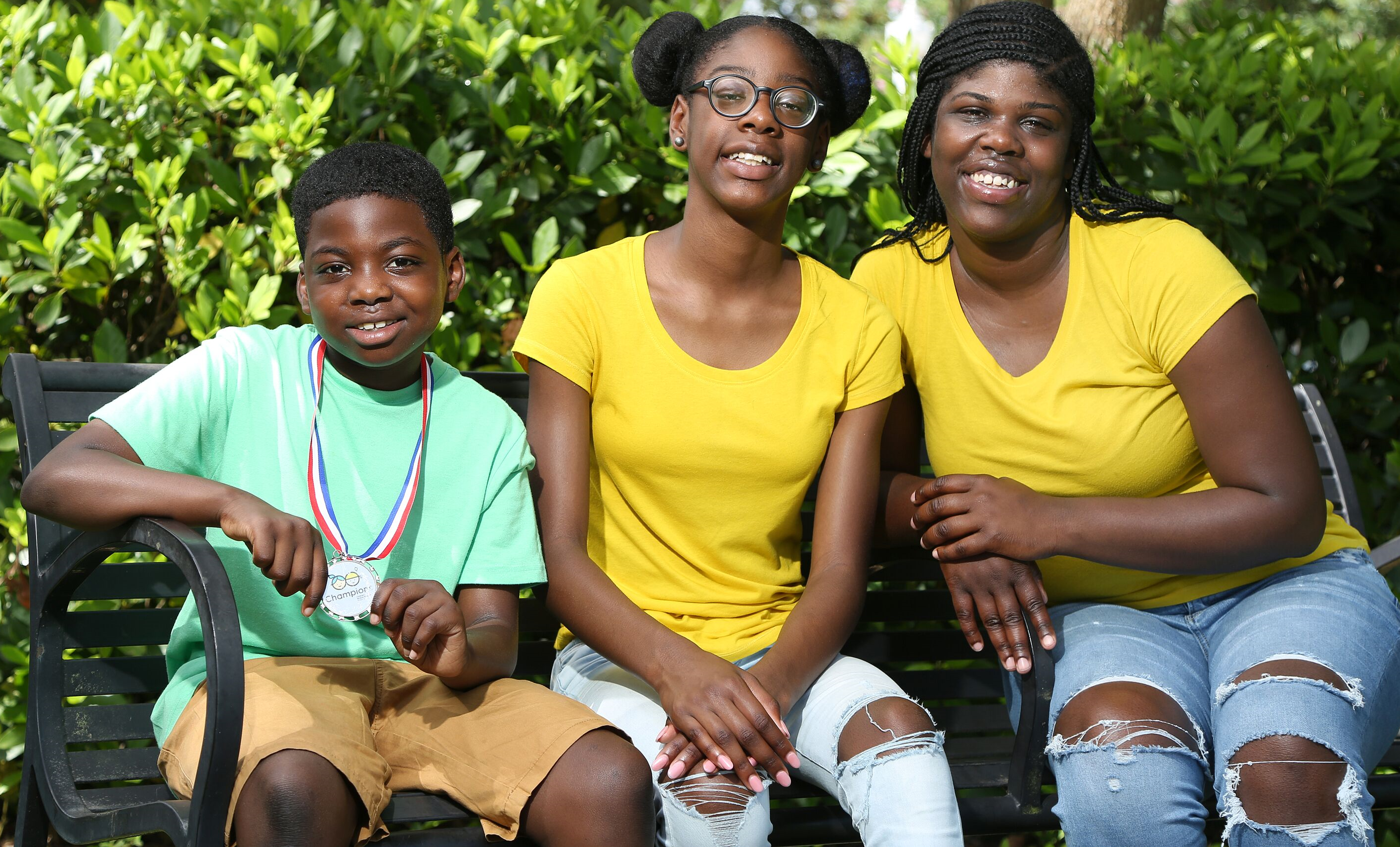 On a recent afternoon, Burns talked about the challenges of taking care of a child with a chronic illness. The experience motivated her to seek a career in healthcare. Already a licensed practical nurse, she's working on her final semester of college to become a registered nurse and eventually take care of patients like her son.
She also has become an outspoken advocate for sickle cell anemia, talking to groups across the Gulf Coast whenever she can. "So many people don't know what sickle cell is," she said. The mother of two wants people to make sure they know their status – whether they carry the gene for the disease that strikes about 100,000 people in the U.S.
Sickle cell disease (SCD), according to the Centers for Disease Control and Prevention, is a group of inherited red blood cell disorders. Healthy red blood cells are round, and they move through small blood vessels to carry oxygen to all parts of the body. In someone with SCD, the red blood cells become hard and sticky and look like a C-shaped farm tool called a "sickle."
The sickle cells die early, which causes a constant shortage of red blood cells. When they travel through small blood vessels, they get stuck and clog blood flow. This can cause pain and other serious problems such as infection, acute chest syndrome and stroke. Sickle cell-related death among African-American children younger than 4 years of age fell by 42 percent from 1999 to 2002, according to the CDC. The drop coincided with the introduction in 2000 of a vaccine that protects against invasive pneumococcal disease.
Landen typically visits the USS Hope at USA Children's & Women's Hospital once a month for a check-up and blood transfusion. The infusion unit, decorated to look like the inside of a colorful submarine, offers virtual reality gaming units, plus TVs and iPads for young patients to help distract them from why they are there. The transfusions can last up to four hours.
Since he began the monthly blood transfusions, his episodes of intense pain, known as a pain crisis, have diminished. In his short life, Landon has endured four surgeries, one to remove his spleen at age 2. He's had two operations on his brain.
On several occasions when her son has been hospitalized, Burns said, doctors and nurses have come in early, before their shifts began, to check on Landen. "Everybody is not like that," she said. Burns will be forever grateful for the care her son has received from USA Health: "I will not go anywhere else. I trust the doctors, the nurses and everyone there."