Center for Healthy Communities to help lead first in series of medical town halls
"We have gotten really good at taking care of patients when they come into the hospital, but the recovery of patients and the prevention of diseases are about involving the person and the community."
Published Oct 18th, 2023
By Michelle Ryan
mryan@health.southalabama.edu
The Center for Healthy Communities, USA Health and the Mobile Metropolitan Medical Society are partnering for an upcoming outreach event designed to discuss the state of healthcare in the community.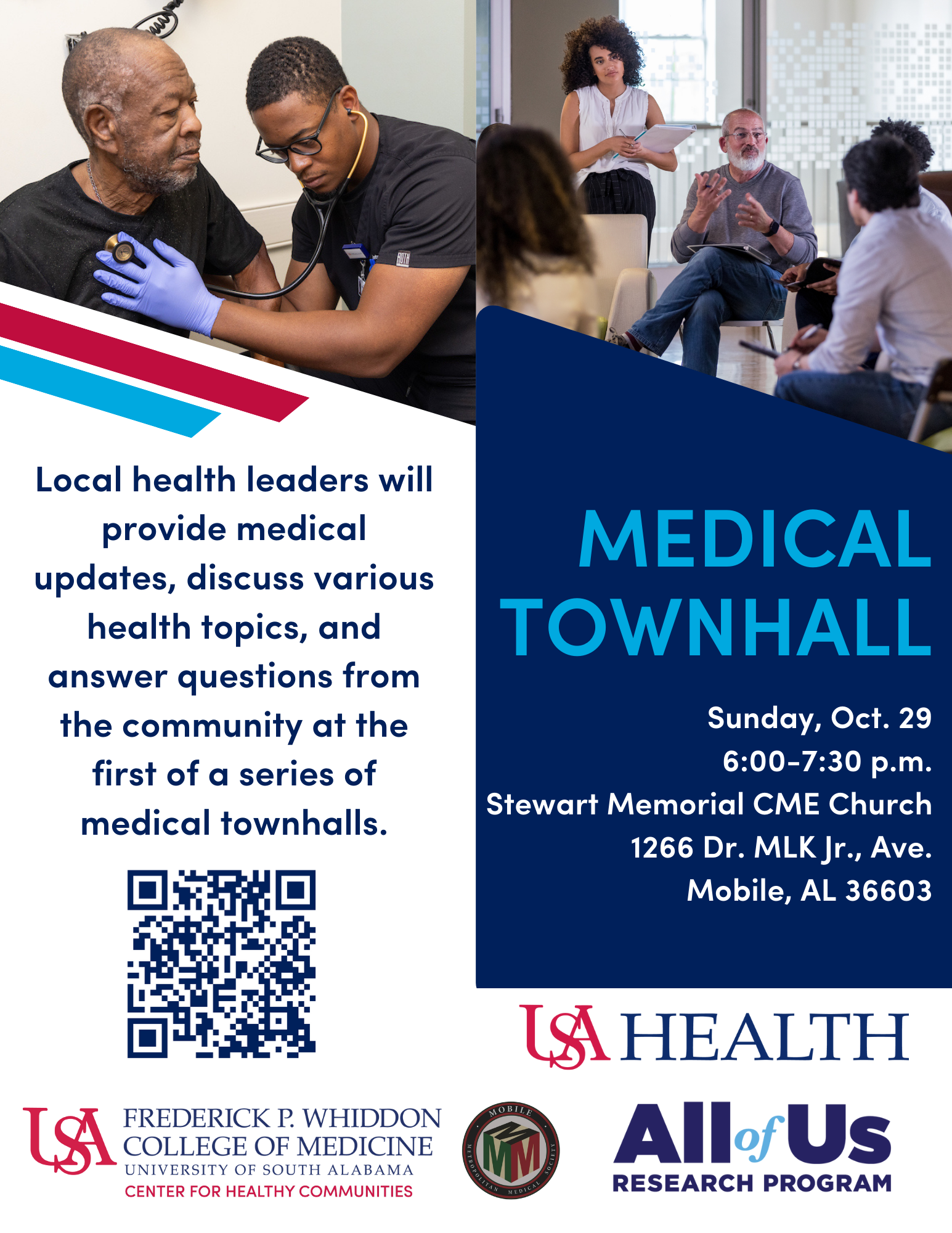 Open to the public, the first in a series of medical town halls will be held Sunday, Oct. 29, from 6 to 7:30 p.m. at Stewart Memorial CME Church at 1266 Dr. Martin Luther King Jr. Ave. in Mobile. 

"My passion is really about getting outside of the hospital walls and making a difference before patients come to the hospital, and that's a big part of the Center for Healthy Communities," said Ashley Williams Hogue, M.D., a trauma surgeon at USA Health and director of the center. "Our whole purpose is to bridge academia with the health system with the community, making sure all the stakeholders are at the table when we talk about the health of our community." 
Williams Hogue emphasized the opportunity for the public to have an open discussion with medical providers about their concerns.  
"We're going to talk about medical issues, but we'll also open up the floor to the community because we want that connection to be completely open between our community members and our health system," she said. 
The evening will include short medical updates, an open panel discussion and small group conversations designed to help determine the community's health-related concerns. 
"We have gotten really good at taking care of patients when they come into the hospital, but the recovery of patients and the prevention of diseases are about involving the person and the community," Williams Hogue said. "I'm always thinking about how to prevent what's preventable."  
Representatives from the USA Health Mitchell Cancer Institute and the All of Us Research Program, a community-engaged research project, will also be available to provide information and field questions.