Bright, Donnellan discover innovative approach to treating burn survivors through collaborative study
Adult and pediatric burn patients now have access to life-changing laser treatment for scar revisions in an outpatient setting.
Published Apr 5th, 2023
By Michelle Ryan
mryan@health.southalabama.edu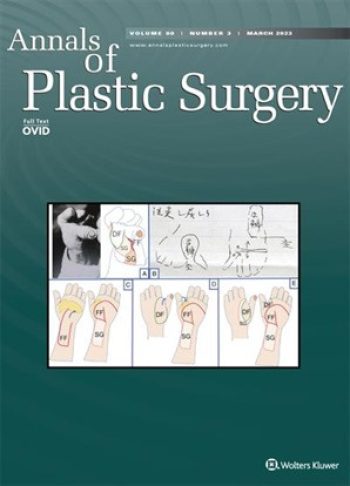 Scar revision treatments, which were once only treatable by surgery, and were costly, painful and often stressful for patients, are now more tolerable and accessible to burn survivors in the Southeast region, thanks to the collaborative efforts of two USA Health physicians.
A study by Andrew Bright, D.O., an assistant professor of surgery for the Frederick P. Whiddon College of Medicine and medical director of USA Health's Burn Unit, and Kimberly Donnellan, M.D., F.A.C.S., a facial plastic and reconstructive surgeon, offers new promise for burn patients seeking scar revision procedures to address range of motion, chronic pain or itching caused by their healed wounds. The study will be published in the March 2023 issue of the peer-reviewed journal Annals of Plastic Surgery.
"We have seen improvements in patients' functional recovery not before realized. Many of the patients who survive burn injury and transition to outpatient develop functional impairments over time," Bright said. "These impairments often relate to excessive or disorganized scar tissue. Traditionally, treatment of this problem is painful and requires anesthesia, and many of our patients would not otherwise return for this care due to inconvenience or aversion to the hospital."
The article, "Treatment of Chronic Hypertrophic Burn Scars With a Fractional CO2 Laser Is Well Tolerated in an Outpatient Clinic Setting," documented the treatment of 17 burn patients referred from the Arnold Luterman Regional Burn Center at USA Health University Hospital to Donnellan's Skin and Laser Center at USA Health Midtown.
"The outpatient application of this laser procedure performed by Dr. Donnellan and her team have allowed many burn patients to get laser treatments with minimal discomfort and no further need to return to the operating room with general anesthesia," Bright said. "This has greatly improved access to care and recruitment of many patients who would otherwise accept their level of physical limitation."
Patients ranging in age from 9 to 59 years with thermal, friction, chemical and electrical burns had scars of more than six months old treated with newer fractionated CO2 laser technology in an outpatient clinic setting.
"The majority of complaints are attributed to decreased range of motion, pain and intense itching," Donnellan said. "We have shown great success with improving all the complaints in a short amount of time. Even patients who were burned as long as 20 years ago have shown improvements."
At Donnellan's outpatient Skin and Laser Center, she often treats patients seeking cosmetic resurfacing procedures with newer laser technology using forms of topical anesthetic.
Because more recent CO2 laser systems offered similar results to their predecessors, but with less pain and shorter recovery time, the hypothesis that they could be used to treat burn scars in an outpatient setting for both adult and pediatric patients was born.
"Dr. Bright originally came to me with a need that was not being met," Donnellan said. "He knew that I had experience with lasers in my clinic and asked if I would be interested in helping with the rehabilitation of burn patients. I was immediately excited to collaborate with the Burn Center and began researching other methods of treatment currently in use elsewhere."
Those methods, which are typically standard, still require patients to undergo general anesthesia due to the pain associated with the procedure in the hospital, an already stressful environment for a burn survivor.
"I combined the principles that we use in cosmetic surgery and applied them to this population to see if we could make treatments more comfortable and accessible, while still achieving maximum rehabilitation potential," Donnellan said. "It became evident with the first few patients that we were on to something great. We have since shared our ideas and approach with many leaders in the burn community, as well as a pending publication in a peer-reviewed journal."
Bright said the new type of laser used in the study, the DEKA Smartxide Tetra CO2 refractory laser system, works by perforating dense scars and creating tiny channels in the tissue that improve tissue motion and stimulate regeneration. In the outpatient setting, pharmacy-compounded topical anesthetics are used instead of general anesthesia.
Fractional CO2 lasers are praised for their ability to reduce the trauma of treatment and decrease downtime, yet retain their effectiveness. They emit smaller columns of thermal energy on the treatment area.
Especially effective on scars from wounds that have abnormally healed, they work by breaking down scar tissue to reveal softer, smoother skin, which helps increase range of motion, restore the skin's function, reduce pain and improve cosmetic appearance. Within days, patients can return to normal activity.
To their knowledge, this is one of the first studies to report the effective application of a laser system for treatment of burn scars in the outpatient setting.
In the study, treatment tolerability, functional improvement and cosmetic enhancement were assessed with patient-reported response after each treatment. According to the study, the age of the patient, type of burn, surface area of treatment, location of burn, presence of skin graft or the age of the scar did not significantly affect the tolerability of treatment or satisfaction of outcome.
After treatment, patients were asked to rate their tolerability of the procedure. More than 70 percent indicated "tolerable," and 29 percent indicated "very tolerable."
One hundred percent of patients indicated that their condition had improved or significantly improved after the treatment. Many patients reported being able to resume daily tasks, such as writing, playing basketball, opening a jar, typing on a computer and using a smart phone.
"Patients are able to make critical milestones such as picking up an object, reaching for objects overhead, brushing teeth, performing hygiene," Bright said. "Generally, the improvements set them up to be 'normal' again, and many are able to better perform meaningful work."
Collaboration for the study included pediatric surgeons, giving Bright and Donnellan the opportunity to treat very young children.
"The treatment has allowed them to regain some normalcy after very debilitating injuries," Donnellan said. "The feedback from the children and their parents has been very positive and enthusiastic."
Finally, most patients noted improvements in the look of their scars. They reported a flattening of the scar and a tendency toward a normal color after treatment.
Bright and Donnellan said they look forward to further studying the effects of the treatments over a longer period of time and with a larger sample size, but are excited for the opportunity to expand and improve care for the patients they treat across Alabama, Mississippi and Florida.
According to them, that would not have been possible without the collaborative environment of an academic health system.
"The collaboration with the burn surgeons and myself has been instrumental in making this new service line a success," Donnellan said. "We are able to use knowledge and skills from very specialized surgical fields to ultimately provide world-class innovative care."
Contributing authors from the Skin and Laser Center, USA Health's Division of Trauma, Acute Care Surgery and Burns, and USA Health's Division of Pediatric Surgery include: Donnellan and Bright, principal investigators responsible for study design; Chandler S. Hinson, MSc, second-year medical student; Addison C. Blevins; Katrina L. Weaver, M.D., assistant professor of surgery and a pediatric surgeon; Alicia C. Lintner, C.R.N.P.; Charles C. Butts, M.D., F.A.C.S., Ashley Y. Williams, M.D., and Yann-leei L. Lee, M.D., all assistant professors of surgery, and trauma and burn surgeons; and Jon D. Simmons, M.D., F.A.C.S., trauma medical director and chief of Trauma and Acute Care Surgery.
Read the full article ahead of the print version.
Bright presented a portion of the study results at the Southern Region Burn Conference in 2021 in New Orleans, Louisiana. Both Bright and Donnellan reported their findings at the Burn Surgeon Forum last October in Chicago.