By Phyllus Justice, M.P.H., RD, CDE
Diabetes Resource Coordinator - USA Health Mobile Diagnostic Center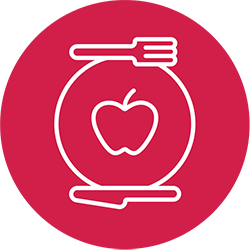 Incorporating healthy sources of carbs, fat and protein in your diet can have many positive health benefits, like weight loss and improved HDL (good) cholesterol numbers. In addition, this also may help lower the risk of Type 2 diabetes and heart disease.
Here are some ideas to help you snack smarter and take better care of your health!
Low-carb, low-calorie snacks (5 grams or less of carbohydrates)
1 cup sugar-free Jell-O
3 celery sticks and 1 tablespoon of peanut butter
5 baby carrots
5 cherry tomatoes and 1 tablespoon of ranch dressing
1 hard-boiled egg
1 cup cucumber slices and 1 tablespoon of ranch dressing
1 cup salad greens, ½ cup of diced cucumber and oil/vinegar drizzle
1 sugar-free popsicle
1 string-cheese stick
15-20 grams carbohydrates and protein (recommended number per snack serving)

1 small apple and 1 slice of reduced-fat cheese
½ cup plain Greek yogurt and ½ cup canned fruit or fruit cocktail (drained and rinsed)
1/3 cup hummus and 1 cup raw, fresh-cut veggies
¼ cup cottage cheese and ½ cup canned or fresh fruit
1 cheese quesadilla and ¼ cup salsa (use 6-inch corn tortilla and ¼ cup shredded cheese)
5 whole-wheat crackers and 1 tablespoon of peanut butter
½ turkey sandwich (1 slice whole wheat bread, 2 slices turkey and mustard)
½ natural peanut butter sandwich (1 slice whole wheat bread, 1 tablespoon peanut butter)
2 rice cakes and 1 tablespoon natural peanut butter