Female physicians at USA Health determined to make a difference in male-dominated specialties
Women may be small in number in some medical specialties overall, but they embrace the advantages – and challenges – of being in the minority.
Published Mar 29th, 2023
By Michelle Ryan
mryan@health.southalabama.edu

The future of medicine is more female than ever, according to the Association of American Medical Colleges (AAMC) reports, but despite diversity overall, women have established dominance in some specialties while barely gaining a foothold in others.
Though the numbers may be stacked against them, the female USA Health providers in specialties where women comprise 20% or less of active physicians are too driven to let it hold them back.
Urology, for example, is one specialty in which women are far outnumbered – 90% male and 10% female, according to the AAMC's 2022 Physician Specialty Data Report, yet USA Health University Urology counts four female urologists among its ranks.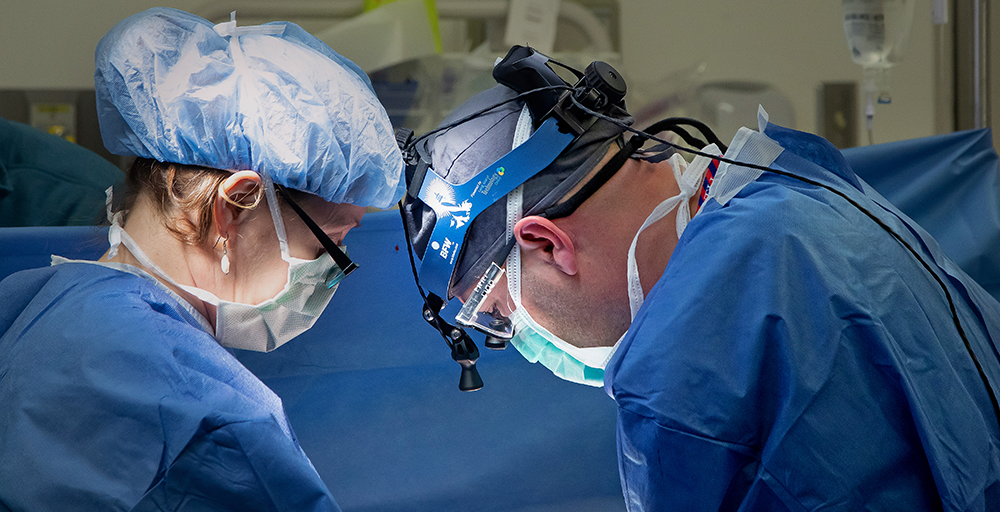 Urologist Lorie Fleck, M.D., F.A.C.S., an associate professor of urology and associate professor of gynecology at the Frederick P. Whiddon College of Medicine, has always been ahead of the curve.
"Urology is still a field dominated by men, but things are slowly changing," she said.
Between 1989 and 1995 – during which Fleck graduated from medical school and finished her residency - the number of female urologists in the U.S. grew from 22 to 100.
"I was aware that there were no other current female urologists where I trained in Georgia," Fleck said, "and when investigating the possibility of a residency, I discovered that there had never been a female urology resident at the Medical College of Georgia. I would be the first."
Fleck became the first female urologist to practice in Mobile in 1995 and now is among more than 1,100 women actively practicing in the field nationally.
"Being in the minority has not been too difficult," Fleck said. "There have been those who felt that urology was a 'man's world' and that I may never have many patients or be able to build a successful practice.
"But there were many others who have served as mentors and encouraged me throughout the years. I have found that when you give your best, give your time, your ability and try to remain kind and caring, then anyone can build a successful practice, even if you are in the minority."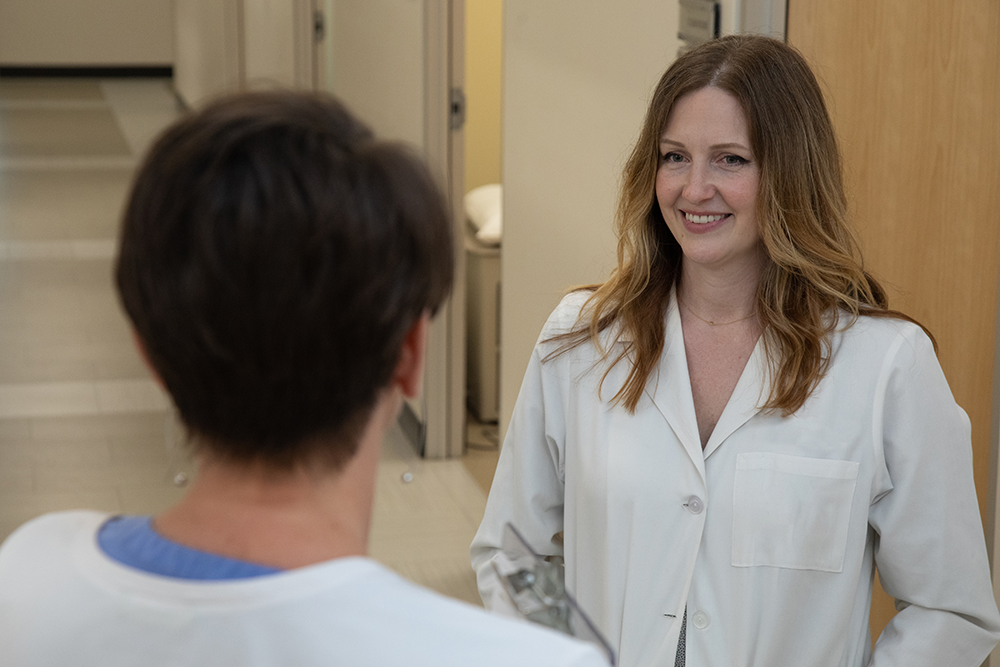 Lisa Bailey, M.D., also a urologist at USA Health University Urology and an assistant professor of urology at the Whiddon College of Medicine, said she wasn't too sure about pursuing a male-dominated specialty at first.
"If I'm honest, it was a little bit of a deterrent at the time," she said, "but because of it, I am very motivated to be a voice for other women, both professionally and with patients."
She, like Fleck, was drawn to urology for its mix of surgery and clinical patient care, but she concedes it's not without its advantages – or challenges – to be one of few females in the field.
"An advantage is the way I identify with the other women in my field. It's almost like a little society," she said. "Also, women in urology are in high demand because female patients (and some men) usually prefer us.
"One challenge is the way some patients view me ('I've never had a 'lady' doctor,' some say), and another is that it is often assumed that I don't want to treat male issues, such as BPH (enlarged prostate) or perform vasectomies, and I actually enjoy seeing a variety of patients."
Kristie Burch, M.D., a urologist and associate professor of urology at the Whiddon College of Medicine, was surprised by how much she enjoyed her two-week stint in urology as part of her surgery rotation in medical school.
"Even though it is a surgical subspecialty, we take care of men, women and children," she said. "A big part of what we do improves a patient's quality of life, as well."
Still, Burch wasn't sure about following a career path in that field.
"I was hesitant at first to choose urology as my field as I had never met a female in the specialty, but I was very fortunate to have the first female resident in the program when I was a third-year medical student," she said. "She was very encouraging to me and assured me that I would have a busy practice. Being the only female resident at the time of my training may have motivated me to work a little harder, but overall, I had a positive experience."
Tiffany Baugh, M.D., an otolaryngologist, a doctor who treats conditions of the ears, nose and throat or head and neck, at USA Health Midtown, noticed the disparity in her specialty before she graduated from medical school.
"I was aware there was a gender gap before applying, but many surgical specialties have more men than women, so I did not see it as unusual," she said. "However, when I went for interviews for residency, I sometimes was the only female there, which felt odd. I did interview at one place that did not have any female residents."
Though challenges exist in the male-dominated specialty – only 19% is female, according to the 2022 AAMC report - Baugh said the advantages outweigh them.
"Having women in any field is important to encourage different perspectives and ideas about the clinical and research aspects of medicine," she said. "For some patients, they feel more comfortable with male or female physicians, and it is nice for them to have that option in all specialties. 
"For students, residents and fellows, it is helpful to have mentors and women in leadership positions to provide support and guidance. All female physicians have stories where they have been treated differently, and it can be frustrating when you are working hard to care for patients."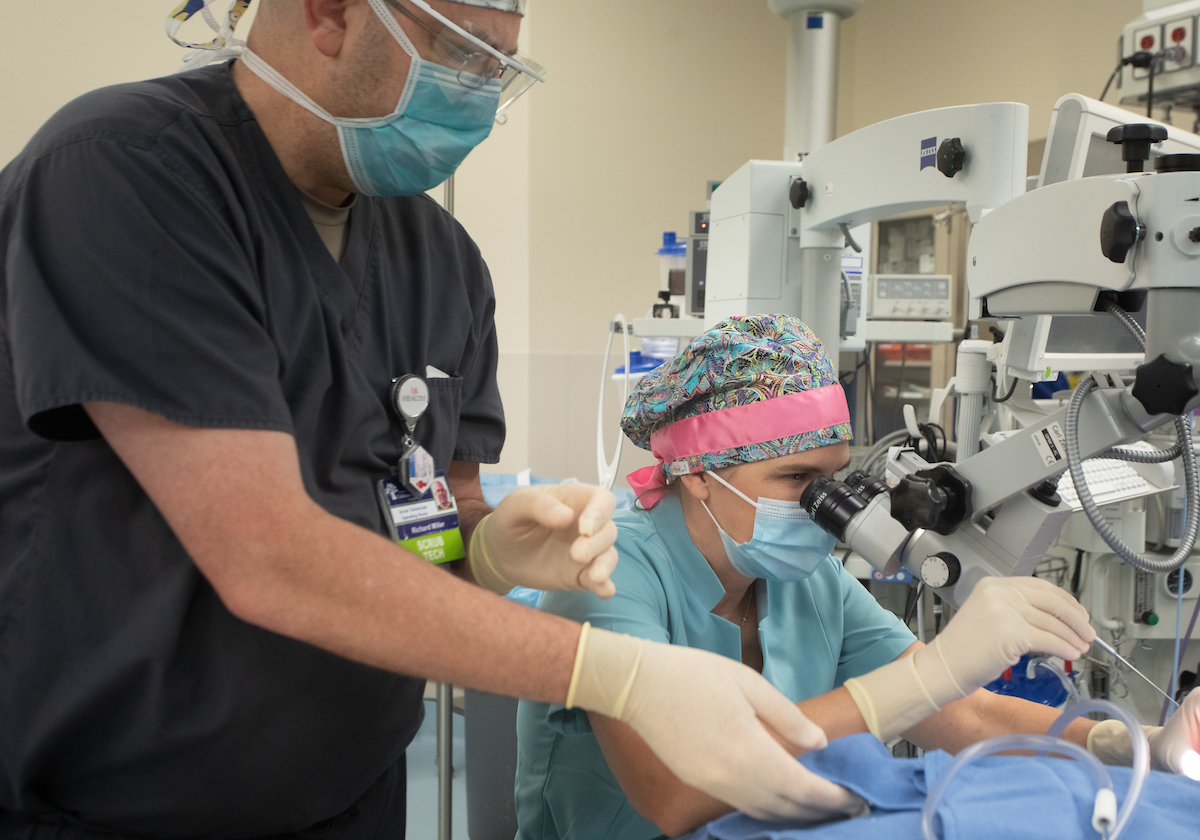 While Baugh noted that some otolaryngology practices are entirely male, USA Health Midtown boasts two women – she and Kimberly Donnellan, M.D., F.A.C.S., an ear, nose and throat specialist as well as a facial plastic and reconstructive surgeon.
"I was intrigued by the anatomy of the head and neck region and was committed to pursuing head and neck surgery as early as my first year in medical school," she said. "It wasn't until residency that I discovered facial plastic surgery was an interest of mine."
The only female double-board-certified facial plastic surgeon on the Gulf Coast who is in the minority in two fields said she was aware of the gender gap, and it didn't deter her at all.
"Even in medical school, although the gender gap is diminishing, I think females feel the need to prove themselves every step of the way, not only to their mentors but also to their colleagues and other staff members," she said. "There is a movement for women empowering women, and I think that this is essential for females to succeed in traditional male-dominated professions."  
Whether it's large head and neck reconstructive cases, small non-invasive treatments or surgical ones like facelifts or blepharoplasty (a procedure to improve the appearance of the eyelids), Donnellan said she enjoys helping her patients feel more confident.
Though she is among only about 17% of female plastic surgeons actively practicing, according to the AAMC report, Donnellan sees it as an asset.
"An advantage in the cosmetic world is certainly being able to see things from a woman's perspective. I believe that patients are very comfortable when they leave a consultation with me," she said. "I listen first and recommend based on what I hear are the patient's concerns. 
"Women are great listeners and communicators. Cosmetic surgery is not just about the surgeon being happy with the outcome; it's about the patient achieving their specific goals and leaving with more self-confidence."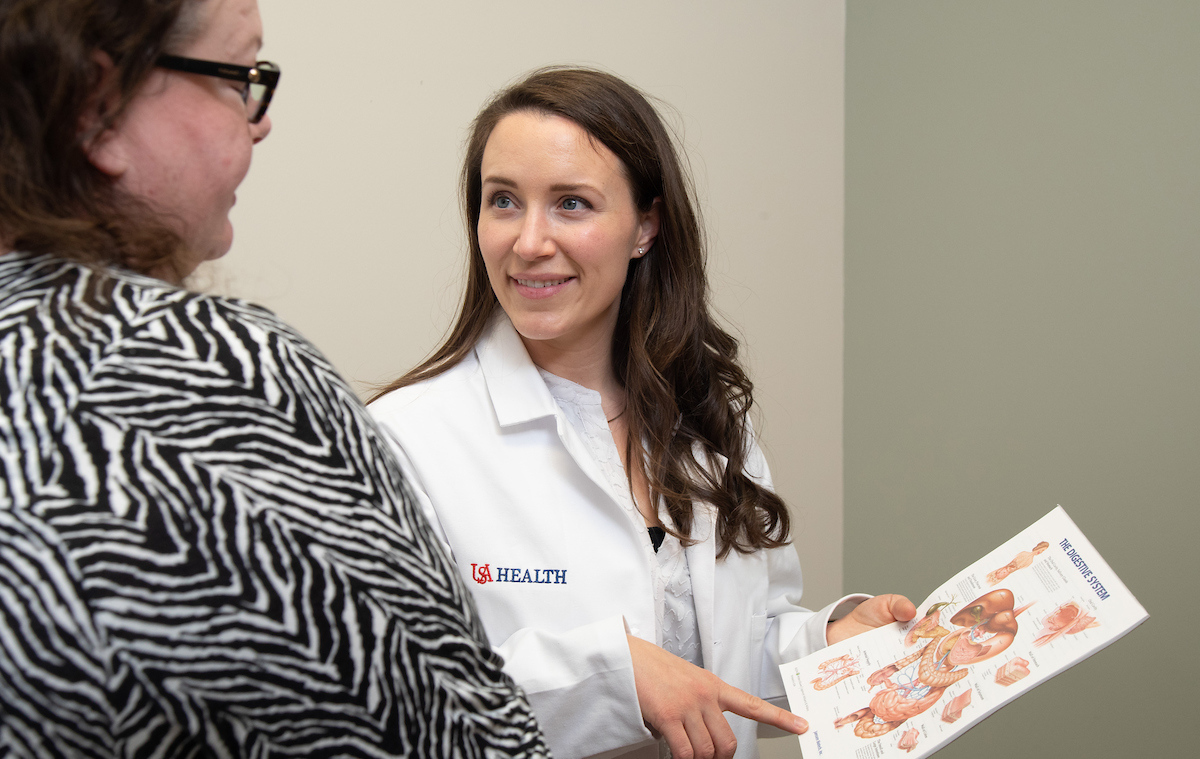 Mary Caitlin Brown Marshall, M.D., a gastroenterologist at USA Health's Digestive Health Center and assistant professor of internal medicine at the Whiddon College of Medicine, said she wanted a specialty that offered variety. But she ultimately chose one that offered an additional challenge.
"I knew I wanted a procedural subspecialty of medicine that included a lot of variety. My patients vary in age, sex and severity of disease, and the procedures we do range from routine to emergent," she said. "I also love how universal it is. Most everyone will need colon cancer screening, and everyone has had a GI complaint at some point in their lifetime."
According to the 2022 AAMC report, the percentage of actively practicing female gastroenterologists is almost 20%, and Marshall said that disparity factored into her decision to choose the field.
"I was aware of the gender gap. It was yet another reason I was motivated to go into GI," she said. "As the only female faculty member in the GI division, I have really enjoyed being able to offer support to the fellows navigating a career where females are in the minority." 
Like others, Marshall sees the advantage of being one of few females in her specialty.
"Overall, being in the minority has been helpful to grow my practice," she said. "There are many patients who prefer a female endoscopist, and I'm happy to be able to help make a colonoscopy a more comfortable experience for them."
According to the AAMC 2021 Fall Applicant, Matriculant and Enrollment Data Tables, women have, for the third year in a row, constituted the majority of medical school applicants, admissions and total enrollment.
The year 2019 marked the first time a majority of U.S. medical school students (50.5%) were women, according to the AAMC, and as an increasing number of female medical students graduate, the percentage of female physicians in the workforce is expected to rise even more.
"We have a good deal more work to do in terms of gender equity," says Michael Dill, the AAMC's director of workforce studies. "If the majority of female physicians are still concentrated in a handful of specialties, then we haven't gotten where we need to be."