University Urology uses innovative imaging agent to improve bladder cancer detection
University Urology now offers Blue Light Cystoscopy (BLC) with Cysview for use in the detection of non-muscle invasive bladder cancer.
Published Sep 12th, 2019
By Lindsay Hughes

lahughes@health.southalabama.edu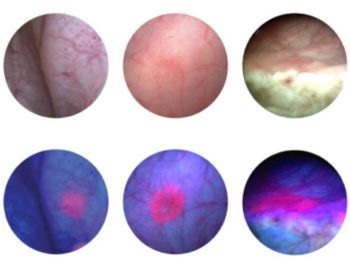 University Urology now offers Blue Light Cystoscopy (BLC) with Cysview for use in the detection of non-muscle invasive bladder cancer.
Bladder cancer is the sixth most commonly diagnosed cancer in the United States. The American Cancer Society estimates that 80,470 new cases of bladder cancer are diagnosed in the U.S. each year. Up to 50 percent of patients will have their bladder cancer recur – the highest recurrence rate of any form of cancer.
When symptoms and blood tests suggest that a patient may have bladder cancer, doctors perform a visual inspection of the interior wall of the bladder using a cystoscope — a thin tube with a light and video camera on the end — in a procedure called a cystoscopy.
With BLC with Cysview, doctors use a cystoscope equipped with both white and blue light. Before the procedure, Cysview (hexaminolevulinate HCl) is instilled into the bladder. Cysview makes the cancer cells glow bright fluorescent pink in blue light and stand out against the blue of the healthy tissue. This results in the improvement of the visualization and detection of non-muscle invasive bladder cancer lesions.
"Bladder cancer is difficult to detect and has a high rate of recurrence. An inaccurate diagnosis can result in incomplete treatment, which may lead to serious complications and a lower chance of survival for patients with potentially aggressive tumors," said William Terry, M.D., a urologist with University Urology and an adjunct assistant professor of surgery at the University of South Alabama College of Medicine. "Blue Light Cystoscopy with Cysview is an important advancement in diagnostic technology, enabling a more accurate diagnosis of non-muscle invasive bladder tumors compared to the standard technique."
White light cystoscopy has long been the gold standard for detecting suspicious lesions during transurethral resection of bladder tumor procedures. Often bladder cancer lesions are hard to see and can be missed. BLC with Cysview gives urologic surgeons the ability to better evaluate, identify, and remove hard-to-see tumors more accurately. By seeing more lesions, the stage and grade of the patient can be more accurately determined and appropriate management and treatment offered.
"At University Urology, patients with known or suspected bladder cancer can now undergo diagnostic procedures performed by physicians who have been specially trained in the use of this innovative technology," Terry said. "We are also able to perform BLC and bladder biopsies in the office setting, if needed."
BLC with Cysview is FDA-approved for use during surgery and for follow-up cystoscopies. Cysview is not a replacement for random bladder biopsies or other procedures used in the detection of bladder cancer. Learn more at www.cysview.com.
To make an appointment with University Urology, call (251) 660-5930.