After a two-year hiatus due to the COVID-19 pandemic, Project Inspire is back and making a difference in the Mobile community.
Published Dec 20th, 2022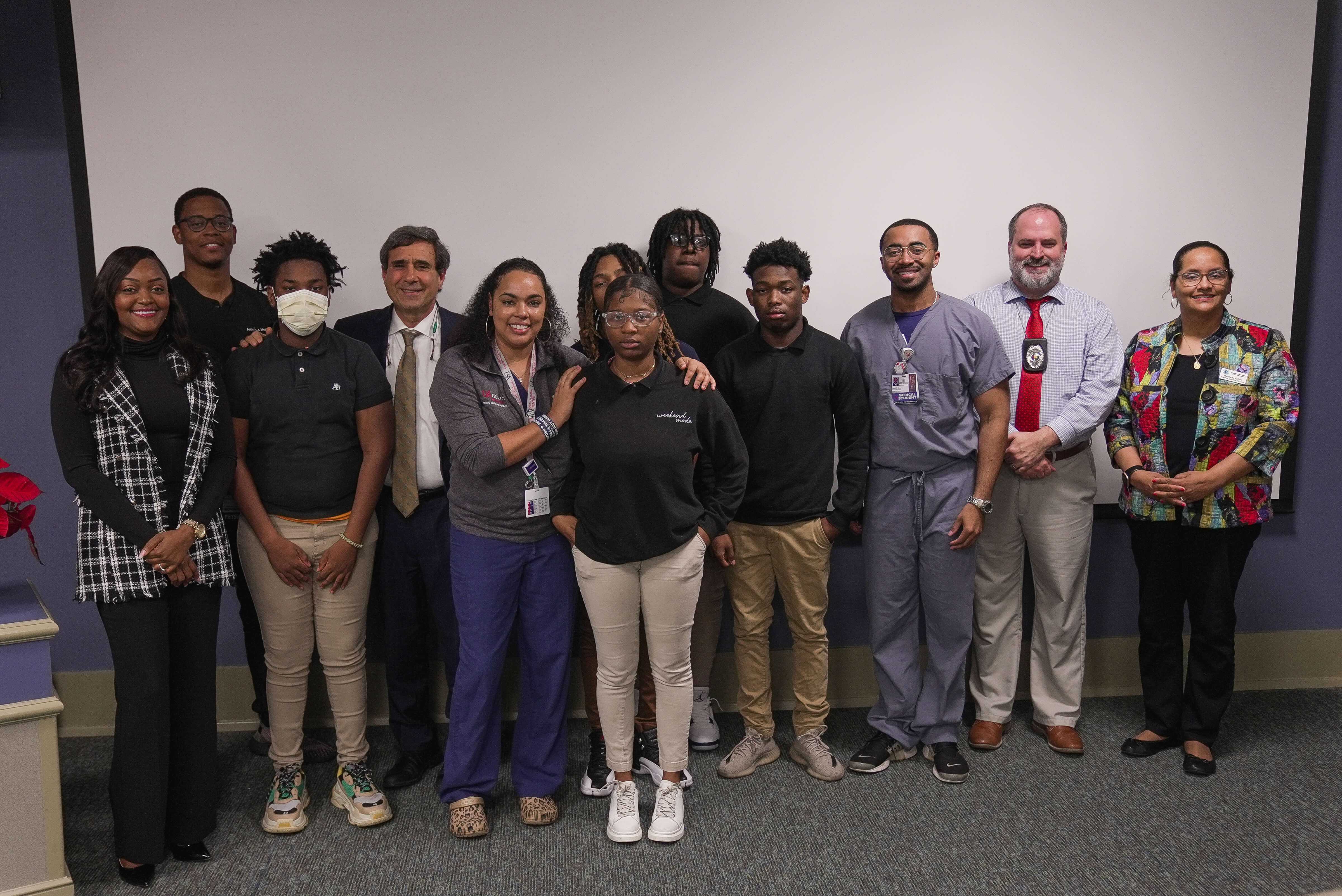 After a two-year hiatus due to COVID-19, USA Health University Hospital celebrated its third class of Project Inspire "graduates" on Monday, Dec. 12. A mentorship and training program for at-risk youth, Project Inspire seeks to curb gun violence in our community while preparing teens for success after high school.
This year, University Hospital welcomed five new Project Inspire participants from the local community, who were identified by the Mobile County Juvenile Court system as candidates who stood to benefit the most from the program. Although successful in its own right, the addition of Project Inspire has radically improved the outcomes in both programs.
"This program is so much more than an anti-violence program; it's a [youth] development program," said Edmond G. Naman, Mobile County Circuit Court judge and head of Mobile County Juvenile Court.
During the 10-week program, students toured Bishop State Community College and learned about the many opportunities available to them through the various departments. They also participated in career planning activities such as ACT/GED preparation, resumé development, mock job interviews and training in Basic Life Support and Stop The Bleed.
The career-planning sessions are designed to encourage participants to formulate a vision for their future careers and develop an action plan. After completing the sessions, the five students identified interests in real estate, truck driving and medicine. One student interviewed for a job and was hired while completing the program.
Antwan Hogue, M.D., a senior hospitalist at University Hospital, worked with the participants and focused on teaching them financial literacy, how to obtain financial freedom, and how to invest in real estate.
"If we can impact one member of our community, we've made a huge difference," said Ashley Williams, M.D., trauma surgeon and Project Inspire founder. "If, then, that person has a positive impact on another, we've doubled our progress. We've ignited change. Our participants will be the ambassadors of change in our community."
Established in 2017, Project Inspire is USA Health's multi-week, hospital-based injury prevention program. Through an ongoing partnership with the Strickland Youth Center, Project Inspire aims to help participants to see themselves through a different lens – one of empowerment.
Project Inspire would not be possible without the donation and assistance from the community and local businesses. To become a part of Project Inspire, contact Rebecca Scarbrough at rscarbrough@health.southalabama or Meg Laubinger at mlaubinger@southalabama.edu.
To support Project Inspire's ongoing efforts in the community, donate today: https://giving.usahealthsystem.com/uh-trauma.