Pediatric Symposium provides timely updates for practitioners
The one-day symposium offers 7.75 hours of continuing medical education.
Published Dec 17th, 2019
By Casandra Andrews
candrews@health.southalabama.edu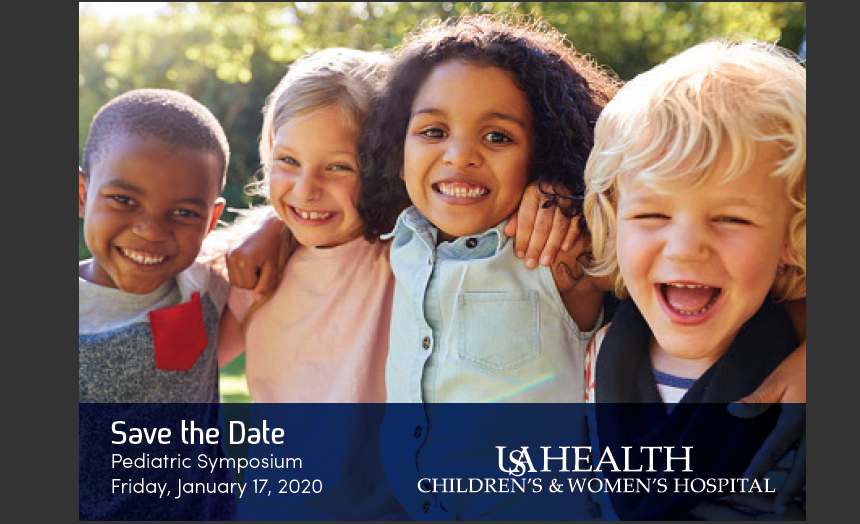 Adolescent bariatric surgery, the long-term needs of child abuse patients and improving the outlook for patients living with cystic fibrosis will be among the topics covered during a pediatric symposium presented by the University of South Alabama department of pediatrics on Friday, Jan. 17, 2020.
The all-day event, designed to provide practitioners with timely updates and insights, will be held at the Strada Patient Care Center, 1601 Center Street in Mobile. Registration is $25. Breakfast and lunch will be provided. Continuing education (CME/CEU) and MOC part 2 credits will be available. A reception for attendees is planned from 4 to 6 p.m.
Here's the lineup of topics and speakers:
"Improving the Outlook in Cystic Fibrosis," presented by Hector Gutierrez, M.D., UAB Health, Pediatric Pulmonology.
"Pediatric Urology Update on Evaluation and Management of Cryptorchidism," presented by Patience Wildenfels, M.D., Oschner Health, Pediatric Urology.
"Child Abuse Panel on Acute and Long-Term Needs of Affected Children in Our Community," moderated by Jessi Kirk, M.D., Child Advocacy Center; Katriea Crummie, assistant district attorney, Child Advocacy Center; Farren Pryoer, M.S.W., Child Protective Services Unit, Mobile County Department of Human Resources; Aimee Lott, L.B.S.W., TBI Care Coordinator, Children's Rehabilitation Services, Mobile Office; and Rosa Vidal, M.D., Pediatric Intensivist, USA Health Children's & Women's Hospital.
"Demystifying Non-IgE Food Allergy," Jennifer Lightdale, M.D., University of Massachusetts, Pediatric GI Department.
"Adolescent Bariatric Surgery," Katrina Weaver, M.D., USA Health, Pediatric Surgery.
"Long-term Survival Issues in Children with Cancer," Preethi Marri, M.D., USA Health, Pediatric Hematology/Oncology.