After practicing law for a few years, Candice Holliday, J.D., M.D., decided to earn a medical degree at the USA College of Medicine to become an OB-GYN.
Published Sep 15th, 2021
By Brittany Otis
botis@health.southalabama.edu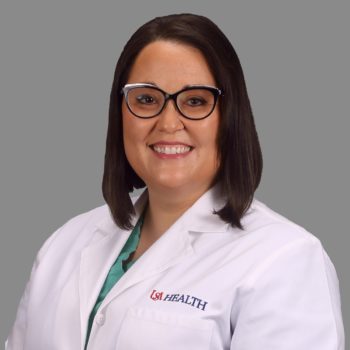 After a few years of practicing law, Candice Holliday, J.D., M.D., decided to pursue another career path in women's health.
"After many discussions with my twin sister, Nicolette Holliday, who currently is an OB-GYN at USA Health, I realized I aspired to do more, so I went back to school to become a physician," Holliday said. "I want to positively impact women by providing them with evidence-based care, so they can be an advocate for themselves and their health."
Holliday, who also is an assistant professor of obstetrics and gynecology at the USA College of Medicine, chose to join USA Health after residency training.
"I can't imagine enjoying my career anywhere else as much as I do at USA Health," she said. "I love being an OB-GYN, and I love teaching students to pursue their calling, so working at an academic health system is a perfect fit for me."
Holliday earned a medical degree from the USA College of Medicine. She completed residency training at USA Health Children's & Women's Hospital. She also earned a law degree from the University of Michigan in Ann Arbor.
Holliday sees patients at the Strada Patient Care Center and at the new OB-GYN clinic located at 4300 Old Shell Road in Mobile. The new clinic opens Oct. 1, 2021.
To schedule an appointment, call 251-415-1496.