Fourth-year medical students matched in 16 states, with 46 students matching out-of-state and 26 students matching in the state of Alabama – 21 at USA Health.
Published Mar 22nd, 2022
Fourth-year medical students at the University of South Alabama gathered March 18 at the Arthur R. Outlaw Mobile Convention Center, anxiously awaiting the results of Match Day.
In this annual tradition called the National Residency Matching Program (NRMP), or more commonly known as Match Day, future physicians at medical schools across the United States and Canada simultaneously learn where they will be doing their residency training.
The Match works like this: After interviewing with several different residency programs – both near and far – students provide a ranking of their top-choice programs in order of preference. The training programs, in turn, rank the students who interviewed. The NRMP matches applicants' preferences for residency positions with program directors' preferences for applicants. Each year, thousands of medical school seniors compete for approximately 36,000 residency positions across the United States.
The USA College of Medicine seniors matched in 16 states, with 46 students matching out-of-state and 26 students matching in the state of Alabama. Twenty-one of the students matching in Alabama matched at USA Health.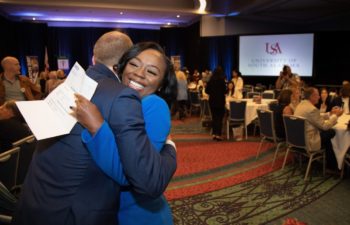 One fourth-year medical student, Brittany Jackson, is excited to serve as a role model for the African American community.
"Both of my parents are Army veterans, so I moved around the world," she said. "Growing up as a military child, I was unaware of the lack of healthcare availability and the true disparity that existed right outside my door. Once I began college, I was no longer in my military bubble and started to realize the mistrust my extended family members had for physicians, as well as the lack of resources and access to healthcare. That realization motivated me to one day be the face of a trusted physician for individuals that look like me."
As she anxiously opened her envelope on Friday, her mother, Cicely Jackson, stood by her side, beaming. "To see all of the hard work and dedication she has put in over the last four years finally pay off is so rewarding," Cicely Jackson said.
Brittany Jackson matched in internal medicine at the Mayo Clinic School of Medical Education in Jacksonville, Florida.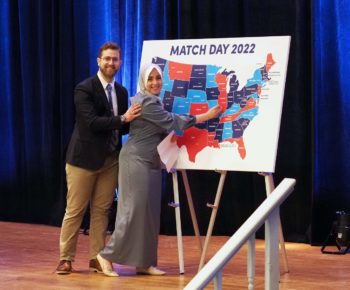 Newlyweds Yousef Omar and Hadil El-Sharkh hoped to secure residencies at the same location as they participated in the couples match. The two knew each other peripherally before medical school – as they both received their undergraduate degrees in engineering from USA – but credit medical school for bringing them closer together.
"We really got to know each other during the first year of medical school as we both became involved in the Muslims in Medicine organization," Omar said. "However, it wasn't until later in the first year during anatomy that we would fall for each other as we studied together in the cadaver lab."
Together, they matched in internal medicine at Saint Louis University School of Medicine. "I am thrilled," Omar said. "Internal medicine allows me to integrate my chemical engineering background in efficiency and problem solving and translate that to the care of my patients. I enjoyed my internal medicine rotation the most during my time in medical school and see it as a field where my career can flourish."
El-Sharkh said she is most excited to use the knowledge and skills that she has acquired during her time at the College of Medicine in a real clinical setting. "As a child, I loved playing the role of a doctor by helping to give my parents their medications and performing small tasks such as checking my mother's blood pressure or my father's blood sugar," she said. "From there, my passion to be a caretaker, combined with my intellectual curiosity, fueled my motivation to pursue a career in medicine. I am very attached to the medical knowledge that I have acquired over the past four years, and I believe that the breadth of internal medicine will allow me to utilize most of that knowledge in practice."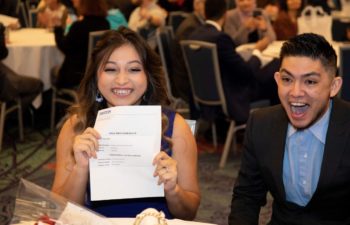 Another fourth-year medical student, Elizabeth Hernandez, is particularly excited to serve as the first physician in her family.
A native of Hayden, Alabama, Hernandez said traveling five hours from home to further her education was not easy. "But it is nothing compared to the sacrifices my parents made when they fled our country," she said of her family's emigration from Mexico.
As a child, Hernandez watched her younger sister battle leukemia and credits a Latina oncologist for solidifying her decision to pursue a career in medicine. "The physician was able to communicate with my parents in Spanish, which made it easier for us to understand such a complex diagnosis. We immediately felt at ease." she said. "I realized then that I wanted to be that person one day to help patients and families in their native language and make them feel that same comfort that we felt that day."
Hernandez matched in internal medicine/pediatrics at the University of Louisville School of Medicine. She offered these words of encouragement to others on a similar path: "To those first-generation immigrants, first-generation college students, from low incomes or small towns, keep going. If I can do it, you can, too! ¡Sí, se puede!"
View more photos of Match Day 2022 on Flickr.
Click here for a complete list of Match Day 2022 results.
Watch the recording of the event's livestream.