The class of 2021 at the USA College of Medicine shared a collective sigh of relief on Friday, March 19, 2021, as it celebrated the college's first in-person Match Day in two years.
Published Mar 19th, 2021
By Carol McPhail
cmcphail@health.southalabama.edu
After four years of medical school, hours of training in hospitals and clinics, and 12 months of uncertainty from the COVID-19 pandemic, the Class of 2021 at the USA College of Medicine shared a collective sigh of relief on Friday, March 19, 2021, as it celebrated the college's first in-person Match Day in two years.

Fourth-year medical students sat six feet apart in the USA Student Center Ballroom as they opened sealed envelopes from the National Resident Matching Program (NRMP) to find out where they will train as resident physicians.
Before they opened their envelopes, John V. Marymont, M.D., M.B.A., vice president for medical affairs and dean of the USA College of Medicine, congratulated the group.
"This is your day," he said. "Embrace your future." Marymont recalled opening his own Match Day results in Nashville and learning that he would train in Houston.
The milestone event followed an unusual year in which students conducted residency program interviews virtually because of the pandemic before ranking the programs in order of preference. Training programs, in turn, ranked the students who interviewed. The NRMP uses a mathematical algorithm to designate each applicant into a residency program with the results announced nationwide on the same day at the same time.
This year, 48,700 registrants competed for 35,194 spots in residency programs across the United States.
USA College of Medicine seniors matched in 19 states, with 43 students matching out of state and 24 students matching in the state of Alabama – 17 of those at USA Health hospitals.
Franklin Trimm, M.D., associate dean of diversity and inclusion and assistant vice president for medical affairs, relayed advice from Nelson Mandela, who said, "Remember to celebrate milestones as you prepare for the road ahead."
"Congratulations to each of you as you heed this advice today, pausing your journey long enough to celebrate," Trimm said. "Celebrate today's milestones and the accomplishments you have each made while you're looking forward to your road ahead."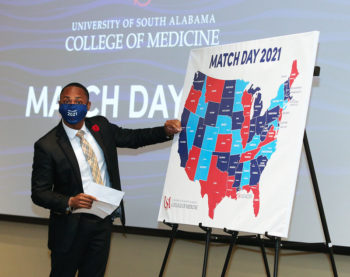 Zachary B. White II said he was excited to share the special day with his classmates. "This event gave the Class of 2021 the opportunity to have a socially distanced in-person celebration, something that hasn't occurred since the beginning of this tragic pandemic that started more than a year ago," he said. "I'm personally excited to see the fruits of all of my classmates' labor over these four years."
White, who serves as class president, announced that he matched in radiation oncology at Stanford University in Stanford, Calif., where he will begin training after a transitional year at Brookwood Baptist Health in Birmingham.
The Birmingham native said his career path was influenced by his mother's journey with breast cancer. "Today, my desire is to treat, created targeted therapies and cure patients who will experience battles with cancer like my mother and so many others in my family," he said.
White also maintains an interest in cancer research and is the founder and co-president of the Oncology Interest Group at the USA College of Medicine. "I started the group to create an opportunity for USACOM students to learn more about the various career options in the field of oncology," he said.
A member of the USA Chapter of the Arnold P Gold Humanism in Medicine Honor Society (GHHS), White was one of nine students in the nation to receive the 2019 Medical Rotation for Underrepresented Populations Award from the Conquer Cancer Foundation of the American Society of Clinical Oncology. He also was one of two students nationwide to receive the 2018 ASTRO Minority Summer Fellowship Award, which led to eight weeks of research and clinical studies in radiation oncology at the O'Neal Comprehensive Cancer Center at the University of Alabama at Birmingham.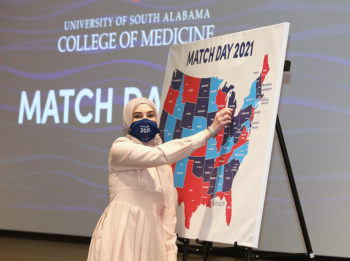 Dala Eloubeidi recalled that medicine was a big part of her life growing up. "My father and several other family members are physicians, but I was drawn to the field more fully after a personal experience," she said. "In the fifth grade, I suffered trauma to my right eye and underwent surgery, which was a daunting process for a young child. During the recovery process, I came to find comfort in the relationship I had with my pediatric ophthalmologist who was very dedicated and kind."
Eloubeidi, a native of Birmingham, said that those interactions helped her understand the impact that a physician can make on someone's life. "I felt that I was led to pursue a career where I could one day take care of others in a personalized and meaningful way," she said.
Eloubeidi, a member of GHHS, Muslims in Medicine and the Alpha Omega Alpha Honor Medical Society, announced that she matched in internal medicine at the University of Michigan hospitals in Ann Arbor, Michigan. "I'm looking forward to building wholesome relationships with my own patients as a resident and truly hope to be a source of encouragement and joy to them," she said.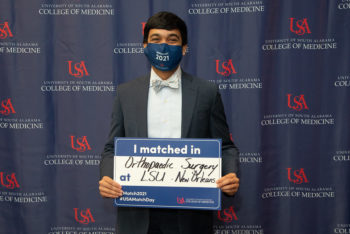 Montgomery native Ravi Rajendra, a former Student Government Association president at the University of South Alabama, announced that he matched in orthopaedic surgery at the LSU School of Medicine in New Orleans,
"This week, I matched into my dream job, which is why Match Week has been so special to me," Rajendra said. "I can't wait to meet my co-residents."
While in high school, Rajendra shadowed a pediatric orthopaedic surgeon who specialized in spinal deformities such as scoliosis, and the experience drew him to the field. "With braces and surgery, the surgeon I shadowed was able to help children stand up straighter and taller so that they could reach their full potential," he said. "For the last 10 years, orthopaedics has been my dream job." Rajendra is a former president of the Student-Run Free Clinic, in which students from multiple health professional schools collaborate to provide care to the community's homeless population under the oversight of licensed providers. He also is a member of GHHS, AOA and serves on the City of Mobile's Equity Task Force.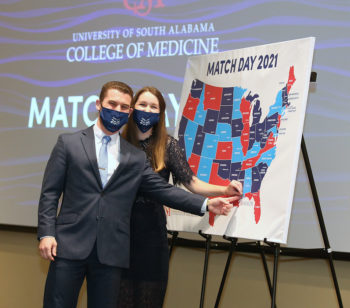 Kendal Dekle and Ian Garrison, both of Mobile, matched as a couple – she in OB-GYN and he in orthopaedic surgery – at USA Health.
"During residency, I am looking forward to building on my passion for women's healthcare and learning as much as I can from those around me so that I can become the OB-GYN that my future patients deserve," Dekle said. "Not only that, but I have the privilege of doing this with my soon-to-be husband by my side pursuing his passion as an orthopaedic surgery resident."
Dekle said she chose to pursue a career in medicine after watching her uncle, a gastroenterologist, take care of the medical needs of her family. "It was not until our first year of medical school that I decided I wanted to be an OB-GYN, after a day in the resident continuity clinic sparked an interest in the care of women that has grown into a passion," she said.
Garrison said that a keen interest in musculoskeletal anatomy coupled with a lifelong participation in team athletics made his decision to pursue orthopaedic surgery "one of the easiest" in his life.
"What I am most looking forward to during residency is the opportunity to dive further into this complex field," said Garrison, who received a military scholarship to medical school through the U.S. Air Force via the Health Professions Scholarship Program. "This, along with one day seeing my fiancé thrive in her field, gives us a tremendous amount of hope for the future."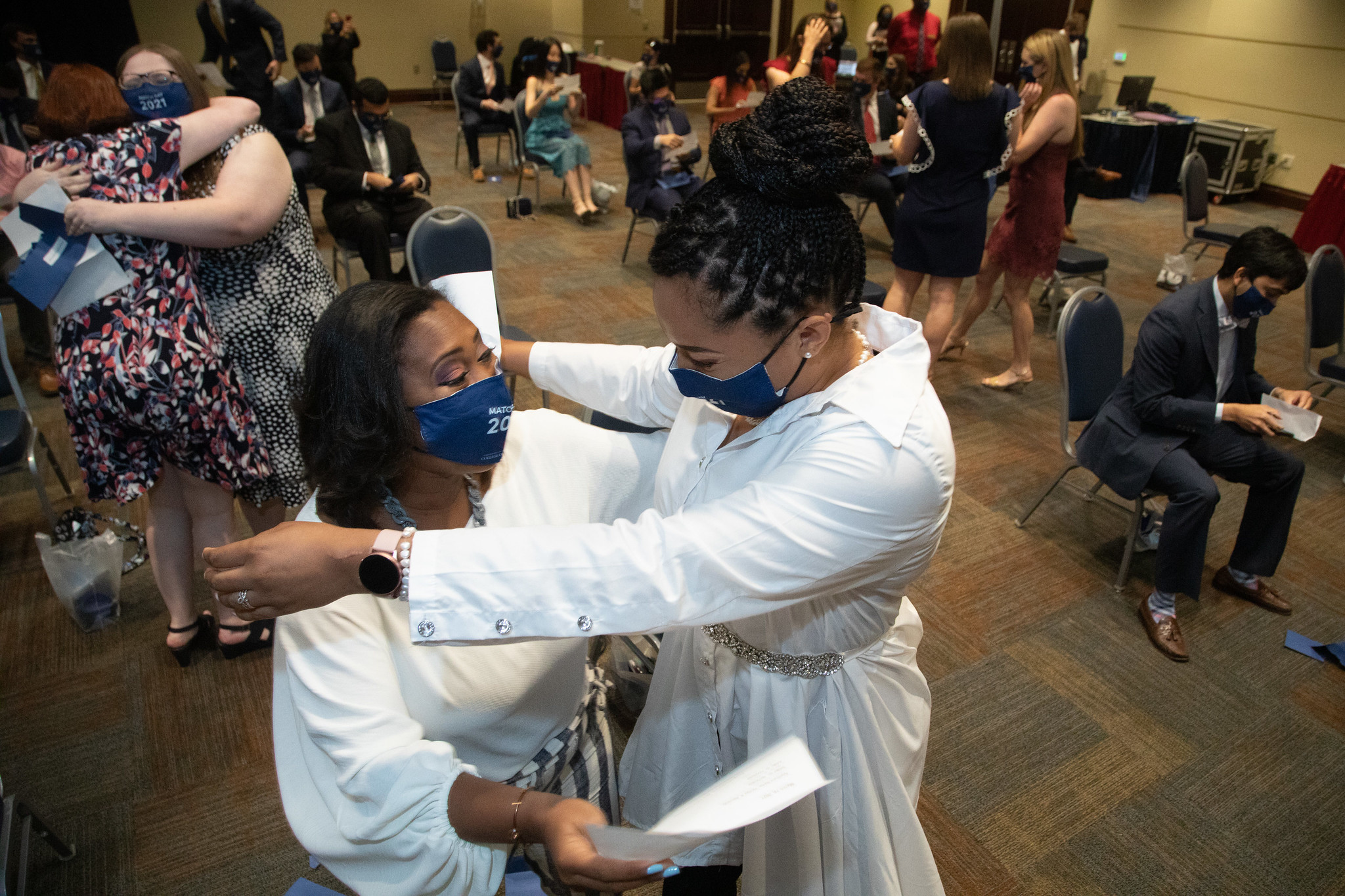 View more photos of Match Day 2021 on Flickr.