The procedure, called mini-percutaneous nephrolithotomy, is used to crush and remove very large kidney stones known as staghorn stones and avoid multiple surgeries for patients.
Published Nov 8th, 2022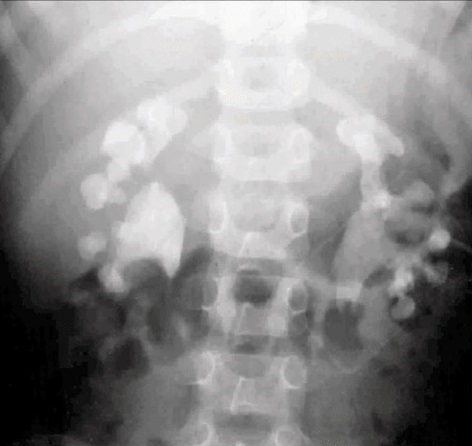 By Carol McPhail
cmcphail@health.southalabama.edu
USA Health University Urology is the only provider in south Alabama to offer a highly specialized procedure for very large kidney stones that results in fewer surgeries and a shorter recovery for patients.
In this procedure, called mini-percutaneous nephrolithotomy, urologists use very small instruments to access the kidney, crush the stone and suck out fragments through a tiny straw inserted in a sedated patient's back. The treatment is recommended for very large kidney stones that branch out into the kidney and cause significant blockage.
"We call these staghorn stones, because they look a little like deer antlers," said William J. Terry, M.D., a urologist with USA Health University Urology.
Staghorn stones are much different than the more common kidney stones that are small enough to pass on their own or be treated with lithotripsy or a scope inserted through the urethra. Unlike the more common stones, staghorn stones are usually not painful and are often discovered when a patient undergoes an X-ray for a different reason. Yet they should be removed because they can result in diminished kidney function and even sepsis.
"The shock wave treatment you hear about doesn't work well with staghorn stones," Terry said. "It would take five or six surgeries to remove the entire stone."
Part of the procedure involves a special technique called ureteroscopic-assisted retrograde nephrostomy placement. The technique enables Terry and his team to gain access to the kidney using a small scope called a ureteroscope to help facilitate the procedure. Further, they utilize a specialized vacuum-assisted sheath to ensure full removal of kidney stone fragments.
Patients who undergo mini-percutaneous nephrolithotomy often can be released from the hospital on the same day as the procedure or the next day, he said. "Our goal is to offer the patient the most effective surgery possible so that only one surgery is necessary."
The Southeast region of the United States is often referred to as the "Stone Belt" for its high prevalence of kidney stones among residents. Terry attributes this prevalence to an unhealthy diet of rich, salty foods combined with a warm climate that can be dehydrating.
He recommends that people drink enough water – avoiding carbonated or sugary drinks – to produce two liters of urine each day. He also recommends adding lemon or other citrus to water and reducing sodium intake.