Giattina brings osteopathic background to USA Health family medicine practice
Family medicine provider returns to Mobile, academic health system to encourage patients to pursue a healthy lifestyle.
Published Jul 18th, 2023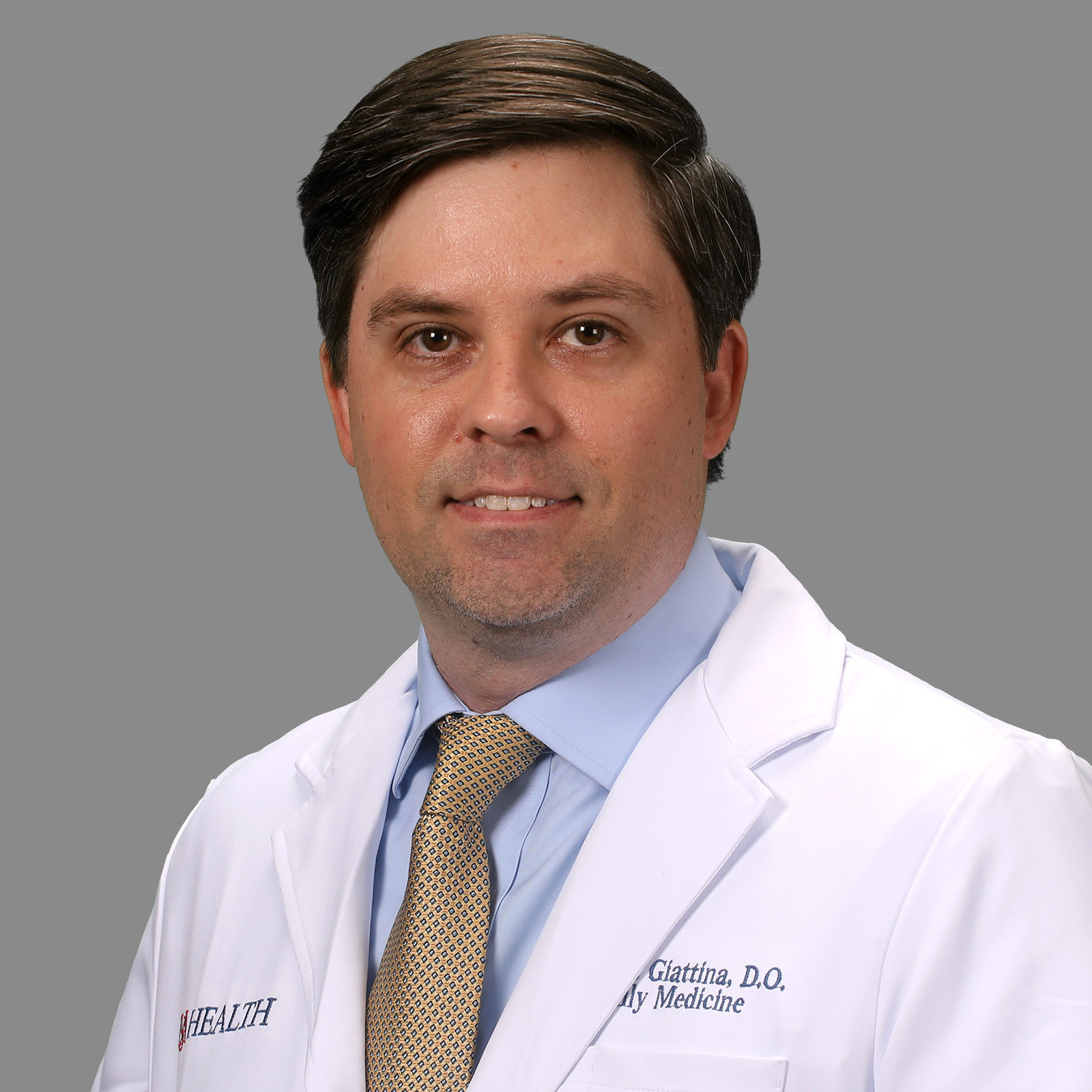 By Michelle Ryan
mryan@health.southalabama.edu
USA Health has expanded its family medicine capabilities with the addition of Kevin Giattina, D.O., who recently joined Family Practice Associates/USA Health.
With this move, Giattina has come full circle with the community, the University of South Alabama and its academic medical system. He grew up in Mobile, graduated from McGill-Toolen Catholic High School and completed his pre-med coursework at USA.
"I switched my career path to medicine to pursue a challenging career that would give me meaning and satisfaction in my daily work, while also having a positive impact in the lives of others," he said. "I'm excited to work for a healthcare organization with such a great reputation and a long history of providing excellent care to the community."
Giattina was drawn to the field of family medicine for the variety and continuity it provides.
"By variety, I mean patients of all ages, the ability to treat acute and chronic medical conditions, and learning about and treating every organ system in the body," he said. "It also gives me the opportunity to get to know my patients and have a long-lasting relationship with them."
Giattina earned a master's degree in biomedical sciences from the Rosalind Franklin University of Medicine and Science in North Chicago, Illinois. He graduated from the Edward Via College of Osteopathic Medicine at Auburn University, then completed a residency in family medicine at Ascension St. Vincent's East in Birmingham.
Osteopathic medicine is among the fastest-growing segments in healthcare, representing more than 11% of all physicians in the U.S., according to the American Osteopathic Association, and continued growth is expected with more than 1 in 4 current U.S. medical students choosing to pursue the field.
"I knew going into medical school that I wanted to work in primary care," Giattina said. "The DO medical schools do a great job of encouraging and preparing their students for careers in this field."
Doctors of osteopathic medicine also receive special training in the musculoskeletal system – the body's interconnected system of nerves, muscles and bones – which allows them to provide comprehensive care to patients.
"I am a strong advocate for preventive medicine, making sure my patients are always up to date on their screenings and vaccinations," Giattina said. "I also encourage my patients to take control of their wellness through living a healthy lifestyle."
During his residency, he volunteered as a medical provider at the clinic at M-Power, a Christian-based nonprofit organization that offers education and health services to underserved communities. He also provided screenings for dyslexia and other learning disabilities through Alabama Game Changers, a nonprofit aimed at promoting literacy, preventing academic failure, and eliminating social and emotional challenges for students with learning disabilities.
Giattina and his wife, Marlena, have three children -- 7-year-old twins and a 4-year-old.