USA Health hospitals accepting donations during COVID-19 outbreak.
Published Apr 14th, 2020
By Casandra Andrews
candrews@health.southalabama.edu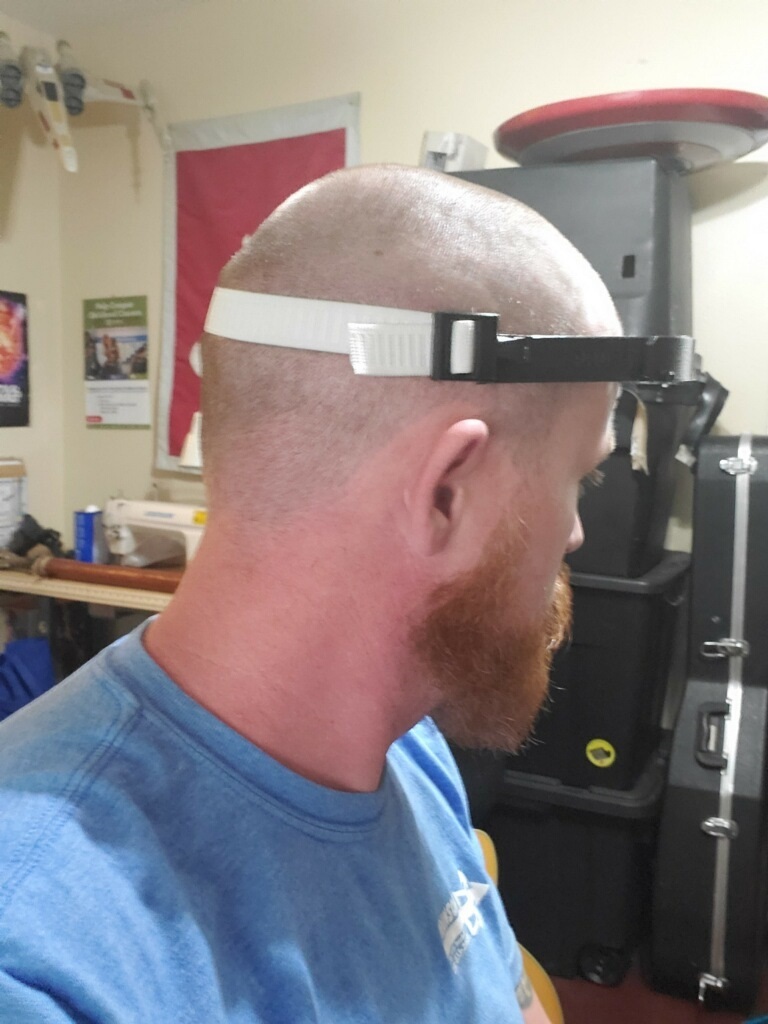 As the COVID-19 global pandemic continues, donations are streaming in from members of the community and businesses who want to help supply USA Health University Hospital and Children's & Women's Hospital and frontline staff with everything from meals and snacks to in-demand personal protective equipment (PPE) and other supplies.
When Brian Bonner heard about the need for additional PPE from hospital staff at Children's & Women's Hospital, he cranked up his 3D printers. The result was 20 plastic headbands to hold face shields.
Bonner and his family have been looking for ways to give back to Children's & Women's Hospital since his little boy, Aiden, died from a rare form of cancer in 2015. Diagnosed three days before kindergarten in 2013, Aiden spent much of his last 17 months hospitalized.
Aiden and his dad loved watching Star Wars movies and episodes of The Clone Wars together. For Aiden's seventh birthday, Bonner bought a Storm Trooper costume to wear for the party. To help brighten the spirits of other sick children, Bonner learned to make Star Wars inspired costumes that he wears for special events at Children's & Women's Hospital.
A room in Bonner's home now houses six 3D printers used in Aiden's Prop Shop, a small business he developed to pay tribute to his son.
"The child life staff and the teachers, they provide a service no one else can provide," Bonner said. "Having them there made a very difficult situation a little easier to handle."
Kim Thompson-Yates, program coordinator for the Mapp Child and Family Life Program at Children's & Women's, said making the gear, and launching Aiden's Prop Shop, has been an important part of Bonner's journey.
Aiden's parents now sponsor a St. Baldrick's fundraiser held each March at the hospital to raise funds for pediatric cancer research. When the need arises, at other times, Bonner has been known to suit up as a storm trooper for an afternoon to cheer up a young patient.
"Because of everything the hospital has done for me and my family over the years," Bonner said, "I will do whatever I can to help them. If they need more, I just need to know how many. "
As stories of national shortages spread – particularly in spots deeply impacted by coronavirus - people feel compelled to lend a hand close to home.
Members of the Vietnamese community on the Alabama Gulf Coast, led by business owners Hien Pham, Jackie Pham, Amy Le, and Phuong Hong Ho organized friends and colleagues in recent weeks to donate thousands of new masks, gloves, alcohol and hand sanitizer to USA Health hospitals.
"Everyone is eager to help," Jackie Pham said. "Everyone is happy to give back to the community and the country that received us and gave us the freedom, liberties and opportunities to do great things! I know it's not a lot … but this is our heart and effort to help and show support to the brave ones in the frontline of the battle."
Sam Dean, administrator at University Hospital, said he and the staff are deeply grateful for the outpouring of support from residents of Mobile and Baldwin counties.
"Donations of food and supplies are coming in daily from large companies and individuals," Dean said. "While we maintain a supply of personal protective equipment and other items for our staff, it's encouraging to our healthcare workers to see the outpouring support from our community."
Two Lowe's locations in Mobile have donated crates of supplies to the emergency department staff at University Hospital, including hand sanitizers, protective suits, face masks and disinfectants.
An early donation at Children's & Women's, Thompson-Yates said, was from Huntsman Advanced Materials from McIntosh, Ala. Mark Smith, the environmental health and safety manager at Huntsman, and Landis Alday, a site director, delivered cases of PAPR hoods, exam gloves, new N95 masks, bleach, protective suits and boxes of snacks for hospital staff.
Fairhope Family Dentistry donated syringes, shoe covers, operating caps, operating room towels and other supplies.
While no supplies have run out completely, the most needed items are N95 masks, hand sanitizers that contain 62 percent alcohol or higher, non-latex gloves such as nitrile gloves, and cleaners that contain bleach.
"In our current situation, we are blessed to see the very best of our community," said Chris Jett, administrator at Children's & Women's Hospital. "Our community throughout the year shares gifts and donations with our patients and their families. Their generosity is amazing."
Jenny Zimlich, an organizer of the local non-profit Krewe of Kindness, has been sewing cloth masks for staff to wear for several weeks. Zimlich's daughter, Delaney, was born with Spina Bifida, and served as an ambassador for Children's Miracle Network in Mobile.
Other churches, individuals and community groups also have been making hundreds of cloth masks for hospital and healthcare staff. In early April 2020, Centers for Disease Control and Prevent (CDC) guidelines recommended that even the general public begin wearing cloth masks when leaving home.
For more information about making a donation of supplies, contact Thompson-Yates by email at kwagner@health.southalabama.edu or call the hospital, at 251-415-1000, and ask for Kim Thompson-Yates.