Carey Johnson and Angela Mosley-Johnson, both students at the USA College of Medicine, married in 2018. Carey is completing his first year of medical school, and Angela graduates with her medical degree this week.
Published May 6th, 2021
By Carol McPhail
cmcphail@health.southalabama.edu

They met at church in 2016. Carey Johnson was sitting a few rows ahead of Angela Mosley at Spirit and Truth Believers Fellowship in Nashville. The two chatted, but it would be another three weeks before he asked her out.
"I was at work putting stuff on shelves when I turned around, and she was walking toward me," recalled Carey, who was employed in the electronics department of a Target while working on a master's degree in biology.
"I thought he was cute," said Angela, who was managing clinical drug trials during a gap year. "He had this big smile on his face."
A year later, he proposed, and the two were married in 2018 during the summer following Angela's first year of medical school.
Today, Angela and Carey, both 28, are medical students at the University of South Alabama College of Medicine; she's a graduating senior and he has just finished his first year. This week, Carey will slip a doctoral hood of green and black, lined in red, white and blue, over his wife's head during her commencement ceremony at the Mitchell Center.
"It's going to be special for me to do that for her," Carey said. "She'll do the same for me next year during the annual White Coat Ceremony." That's when rising third-year medical students don their official white coats with assistance from a person of their choosing. Angela – and eventually, Carey – will be the first physicians in their families.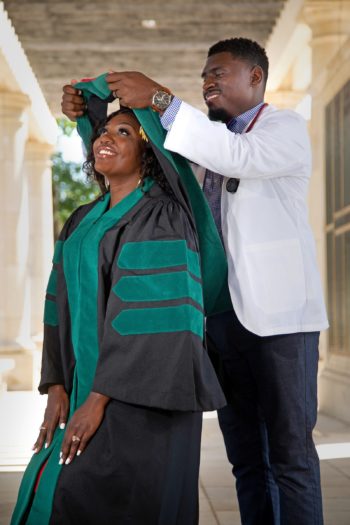 At Thursday's commencement, Angela Mosley-Johnson will be one of the 69 members of the Class of 2021 to receive their medical degrees and doctoral hoods, and take the Hippocratic Oath – the 46th class to do so at the USA College of Medicine. Graduates who are serving in one of the U.S. branches of The Armed Forces will also take the Military Oath.
"We are thrilled to be able to return to an in-person ceremony this year to allow our newest physicians to celebrate this momentous transition to their next phase of training. We welcomed them to the College of Medicine as a group, and this year, as in years past, they can once again depart as a group," said Kelly Roveda, M.D., associate dean for student affairs.
After an unusual year of virtual ceremonies and residency interviews, and mostly virtual classes because of the COVID-19 pandemic, the Class of 2021 has returned to in-person, socially-distanced celebrations. On March 19, they sat six feet apart in the USA Student Center Ballroom to open their sealed envelopes from the National Resident Matching Program.
Angela was excited to learn that she would pursue her residency training in OB/GYN at USA Health. For the couple, who are buying their first house in west Mobile, it was very good news.
Three years from now, Angela will have another year of residency to complete when her husband finds out where he matched into his chosen specialty. Then, as a Blue Cross Blue Shield scholar, she will fulfill a commitment to work as an OB/GYN in an underserved area of Alabama for another three years.
"We try to take it day by day," she said.
Coordinating their calendars, studying separately and making time for each other have been their strategies for getting through medical school together, they said. For instance, their friends know better than to extend an invitation for any Friday evening, because that's date night for them.
"Next year, we might be like ships passing in the night, so we are trying to make the most of our quality time now," Carey said.
Tonight's commencement will be one of those special moments.
Because members of the Class of 2021 can invite no more than four guests to the ceremony, Angela and Carey are planning a celebration with other family members at a beach house on Dauphin Island afterward. "Everyone is vaccinated," Angela said. "We're looking forward to spending time together after such a long and distanced year."