The Concussion Awareness Program has the potential to change the lives of athletes for the better by accurately and rapidly diagnosing concussions through a series of cognitive and physical assessment tests.
Published Sep 19th, 2019
By Brittany Otis
USA Health has launched a new initiative on concussion prevention and education on the Gulf Coast. The Concussion Awareness Program has the potential to change the lives of athletes for the better by accurately and rapidly diagnosing concussions through a series of cognitive and physical assessment tests. The program is led by James Toldi, D.O., a sports family medicine physician at USA Health and assistant professor of family medicine at the University of South Alabama College of Medicine.
The program is designed to decrease the number of missed concussions and accelerate the recovery process for players.
While injuries are often part of sports, some injuries can have life-long, debilitating effects. According to Toldi, a concussion is when the brain hits the skull, adding that it can be a short-lived injury that is self-resolving. However, the aftermath of a concussion could lead to more serious issues. "Post-concussion symptoms can last months or years," Toldi said. "Some research shows repetitive head trauma or concussions can lead to health problems such as memory loss, mood changes and chronic headaches."
Researchers at the Centers for Disease Control and Prevention add concussions can cause increased risks for brain disorders such as Alzheimer's and Parkinson's diseases as well as Chronic Traumatic Encephalopathy (CTE), which research has shown to be a common brain injury in athletes.
The region's only academic health system has partnered with the United States Sports Academy on the cognitive testing portion. "The partnership with USA Health is an exciting one that started back in 2016," said Brandon Spradley, chair of sports management with the Sports Academy. "The program has grown to also include preseason concussion baseline testing, on-field assessment tools for athletic trainers and a concussion clinic for athletes to be evaluated."
Six Mobile County Public Schools high schools and one private school have participated in the concussion program. "This is an opportunity for our school system to partner with USA Health and the United States Sports Academy to be proactive," said Mobile County Public Schools' Athletic Director Brad Lowell. "This creates more concussion awareness for our parents and players. It gives our athletes the opportunity to get the baseline tests so that if an injury occurs, we can use the data during recovery."
The need for change in how concussions are handled sparked USA Health to join an initiative to keep athletes safer. In 2014, Anthony Martino, M.D., a professor and chair of neurosurgery, and Ashley Marass, pediatric nurse practitioner, at USA Health decided to participate in an educational challenge aimed at changing concussion safety. The project was created by the National Collegiate Athletic Association (NCAA) and the U.S. Department of Defense. Martino, Marass and a team at Encore Rehabilitation created an educational video, which was chosen as one of the top six in the country, to help athletes learn more about concussions. The educational portion of the program includes a pre-test, a video and a post-test to measure knowledge towards concussions.
Toldi said he wanted to make the program more comprehensive. "In addition to the education piece, I wanted to add on concussion assessment tools that can be used on the sidelines when there is an injury," he said.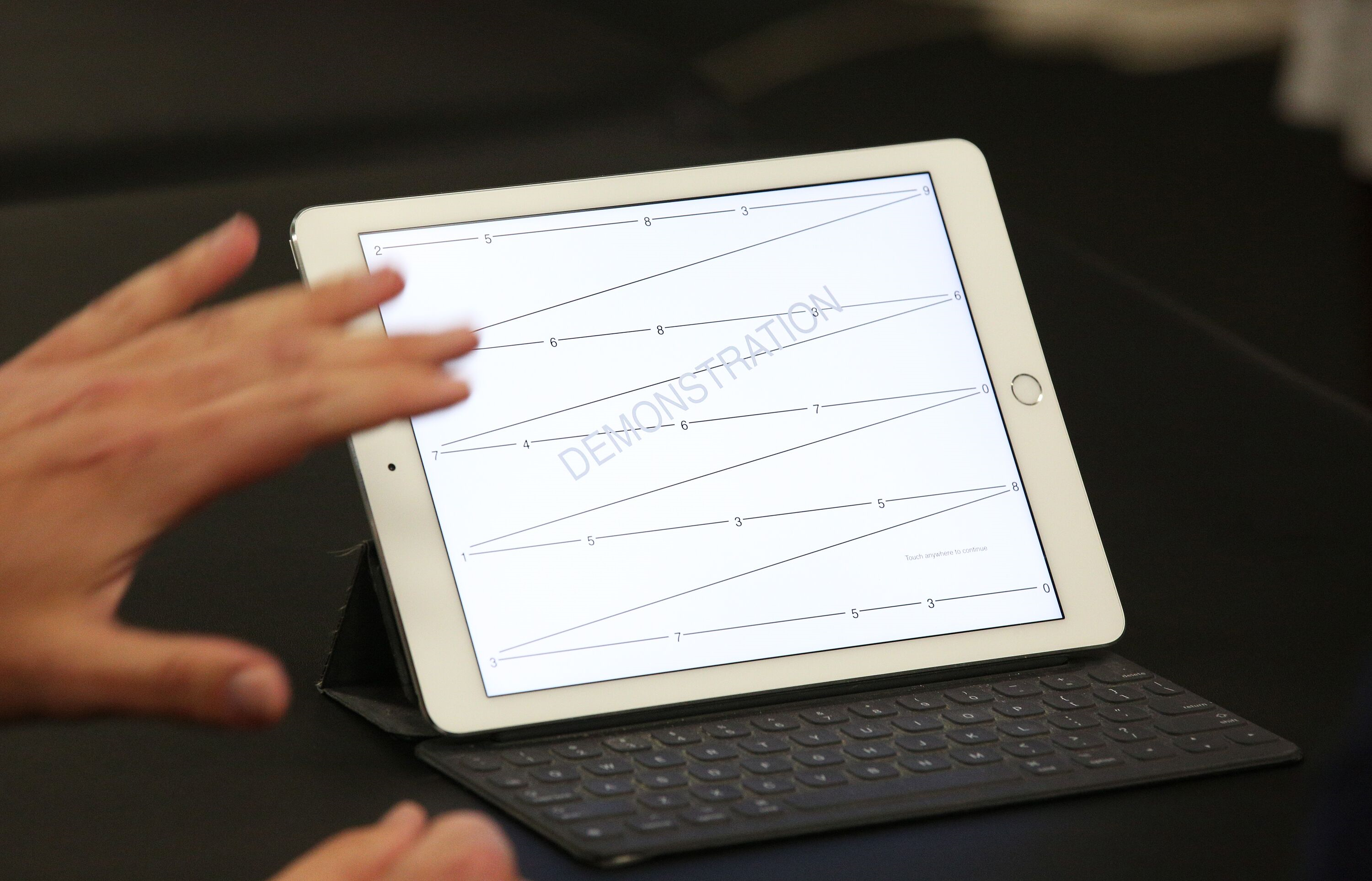 Two tests are used to diagnose a concussion from the sidelines leading to the quick removal of an athlete from a game. "We chose the Sideline Concussion Assessment Tool 5 (SCAT5), which measures cognitive and physical changes and the King-Devick test, which measures eye movement and vision," said Toldi. "The added bonus of the King-Devick test is that it has been validated when the test administrator is a medical professional or a lay person that is on the sideline. We could educate the athletic trainers on how to properly administer these tests without a physician required to be there."
There are currently open appointments for athletes who have experienced sports-related concussions, to allow for proper follow-up and a plan for recovery with Toldi and staff. The appointments are every Monday on the second floor of the Strada Patient Care Center on Center Street in Mobile.
Toldi hopes to expand to more schools in Mobile and Baldwin counties and the surrounding area. "Arming trainers with the access to these tests and how to perform them is a powerful tool that could limit further injury and create a safer environment for athletes."