Embracing new technology quickly was one way that students and faculty at the USA College of Medicine adapted to the many changes brought on by the COVID-19 pandemic
Published Jan 27th, 2021
By Carol McPhail
cmcphail@health.southalabama.edu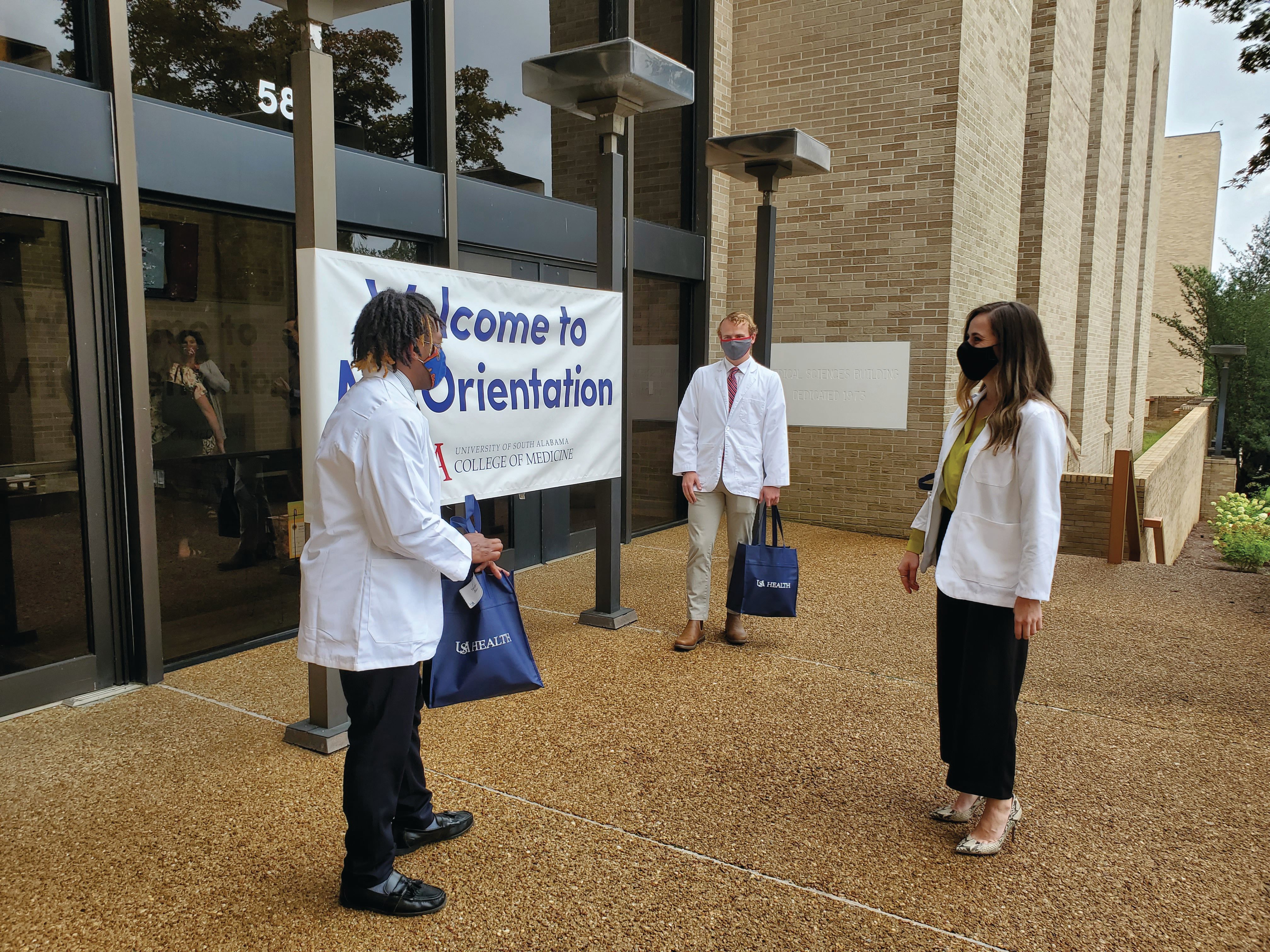 In March, when Zachary White learned that his medical education would be disrupted by COVID-19, he was in the middle of his surgery clerkship. "I thought to myself, 'How am I possibly going to get the most from my surgery rotation at home?'" said White, now a fourth-year medical student at the USA College of Medicine.
White and other surgical clerkship students discovered they would continue their team-based learning using Zoom, a technology new at the time to them and the faculty. Even though they were separated by distance, they viewed lectures and collaborated on case studies based on clinical scenarios under the oversight of William Richards, M.D., F.A.C.S., professor and chair of surgery.
"Throughout the online surgery experience, it was very helpful to have constant learning opportunities from the surgery faculty," White said. He continued his studies from his hometown of Birmingham, where he spent time with family and celebrated his brother's graduation from high school.
Embracing new technology quickly was one way that students and faculty at the USA College of Medicine adapted to the many changes brought on by the COVID-19 pandemic. By the start of the fall semester, the faculty had a formal, sustainable game plan – dividing first- and second-year classes into three groups that would take turns attending lectures online and in person.
"I am incredibly proud of our faculty and staff," said T.J. Hundley, M.D., associate dean of medical education. "The sudden transition of our courses could not have happened without an immense collaborative effort between module directors, clerkship directors and the Division of Medical Education."
Students proved resilient as they coped with new academic methods while having their social, emotional and spiritual lives upended.
"In addition to their studies, some of our students became full-time caregivers for family members and fulltime teachers as they homeschooled their own children during the day, forcing their own studies until late in the evening," said Kelly Roveda, M.D., associate dean of student affairs.
Mark Taylor, Ph.D., director of the graduate program and associate professor of physiology and cell biology, put it this way: "The COVID-19 pandemic has disrupted or redirected almost every aspect of our education mission, including how we train the next generation of biomedical researchers."
The doctorate program welcomed seven new students as it continued to emphasize adaptability as a crucial tenet of the program. "In the end, new challenges inspire novel problem-solving strategies, and I look forward to watching this new generation of scientists take on the challenges to come," Taylor said.
For students in the second semester of medical school, the disruption from COVID-19 eliminated the chance for them to gain important summer research experience to add to their residency program applications. But for second-year students, it was worse. The COVID-19 pandemic exploded just as they were preparing to spend four to eight weeks studying for the United States Medical Licensing Exam (USMLE) Step 1, an important factor for the residency application process.
Test centers closed throughout March and April, and, once they reopened, exam slots filled up quickly. "When our exams were canceled due to social distancing requirements and testing centers closed, it was nearly impossible to find new exam dates before the start of our third year," said third-year medical student Lexie Hensley. "It was awful being in what we all called 'Step purgatory' because we were studying so hard with so much uncertainty on when we would actually be able to take the test."
The domino effect of the delays caused more than half of her class to defer a month of their third-year clerkship rotations. They will then use the beginning of what is traditionally the fourth year to make up the clinical time, which could bump into sought-after away rotations for some students. "Essentially, it has been extremely stressful having so much uncertainty surrounding such an important exam," Hensley said.
During a virtual white coat ceremony, Hensley and her classmates donned their white coats and took the Medical Student Oath, a promise to uphold the human aspects of medicine such as sensitivity, compassion and respect for patients.
Meanwhile, third-year medical students returned to their clerkships to find the healthcare environment significantly changed. Everyone was required to answer screening questions and wear masks before entering the buildings. Social distancing requirements were implemented at all facilities.
"There is more separation in the work environment," said Anna Foust, M.D., assistant professor of internal medicine and pediatrics who oversees medical student rotations. "Learning how to talk with people to coordinate care while socially distancing is a new arena in education. Students are inventive, and I hope that they take this and teach us some innovative ways to communicate."
Foust said she believes that the practice of medicine will be forever changed by the pandemic and will open a doorway to utilizing more virtual visits and changing the way healthcare providers accomplish daily tasks. "I hope that our students see this not as a negative change but a step forward with technology as our aid," she said.
As the challenges of COVID-19 rolled through the spring semester, faculty members offered help for struggling students. Marjorie Scaffa, Ph.D., health and wellness counselor at the USA College of Medicine, moved counseling online and suggested writing prompts to help the students cope with their emotions through journaling.
"It's okay not to be okay," she wrote in an essay. "It is important to understand that in this time, grief is a normal and acceptable reaction."
Scaffa challenged the students to allow themselves to experience their emotions and turn their attention to things they can control. "Focus on the present, not when on-campus classes or clerkships will start again," she said. "Focus on the present – the day you are in."
For fourth-year medical students Amanda Atkins and Macy Vickers, focusing on the present meant launching a drive for protective personal equipment to donate to frontline healthcare workers. After discussing needs with USA Health leadership, they recruited other medical students to volunteer and began contacting local businesses around Mobile for donations.
They gathered 735 face masks, 28,550 pairs of nitrile gloves, 120 homemade masks, 84 N95 masks, 20 face shields and eight gallons of bleach.
Vickers said she was motivated to help partially out of gratitude to the physicians, nurses and staff at USA Health who had taught her so much during her time as a medical student. "It has been so meaningful to have something to do to help those who are in the field that I will soon join," she said.
Wellness Wednesdays, launched before the COVID-19 pandemic, proved beneficial for doctoral students in the Basic Medical Sciences Graduate Program and postdoctoral fellows. A weekly email covered a variety of wellness topics, provided resources, and kept the students connected and engaged.
Most of the basic medical science graduate students participated in online learning, though some were considered essential workers based on their roles in the lab or ongoing experiments.
"Scientists in general have to be resilient," said academic adviser Angie O'Neal. "A major part of research is failing and trying another approach. Our BMS students have adapted to the new learning environment and are making necessary adjustments."
For fourth-year medical students, the changes from COVID-19 resulted in the loss of important traditions. In-person Match Day and Honors Convocation – both defining events in the lives of aspiring physicians – were canceled because of restrictions on large gatherings. Students could not be with their classmates to open their envelopes and celebrate their residency matches.
"We did not realize at the time that our last day of class was the last day," said Patrick Steadman of Mobile, who is now in residency training in internal medicine at Vanderbilt University Medical Center. "There was a grieving process associated with the end of school just sort of fizzling out."
As the students awaited the end of the semester and the transition to their residency training, some took solace in activities with family and friends – fishing, hunting, reading and practicing yoga.
"Just like everybody else, I'm doing the best I can," said Sippy Sridhar of Birmingham, as she awaited the start of her residency training in internal medicine at LSU Health in New Orleans. "I've gotten to spend time with family, which has made social distancing easier."
In early May, the 66 members of the 45th graduating class became the first at the USA College of Medicine to take the Hippocratic Oath and the military oath by Zoom. Typically, both oaths are taken during Honors Convocation, the ceremony when graduates are recognized for their academic achievements and are awarded doctoral hoods.
On that day, John Marymont, M.D., MBA, vice president for medical affairs and dean of the USA College of Medicine, addressed a mosaic of faces shown on two large TV monitors. "You're entering a workforce in a society faced with significant challenges due to a pandemic unprecedented in modern times," he said. "Embrace this challenge, and, as Nike says, 'Just do it.' Do it with compassion, dignity, honesty, respect and resilience."
Class president Ben McCormick, one of the many faces on the screens, took the Hippocratic Oath surrounded by close family and friends at a beach house on the Fort Morgan peninsula. He conceded that the experience was unique, but added that the meaning of the oath remained the same. "The dedication to being 'loyal to the profession of medicine' and to the 'good of the sick to the utmost of (our) power' carries even greater weight," he said.