Class of 2020 celebrates Match Day results
The logistics of this year's Match Day may have been different, but the spirit of the day remained the same.
Published Mar 23rd, 2020
By Lindsay Lyle
lalyle@health.southalabama.edu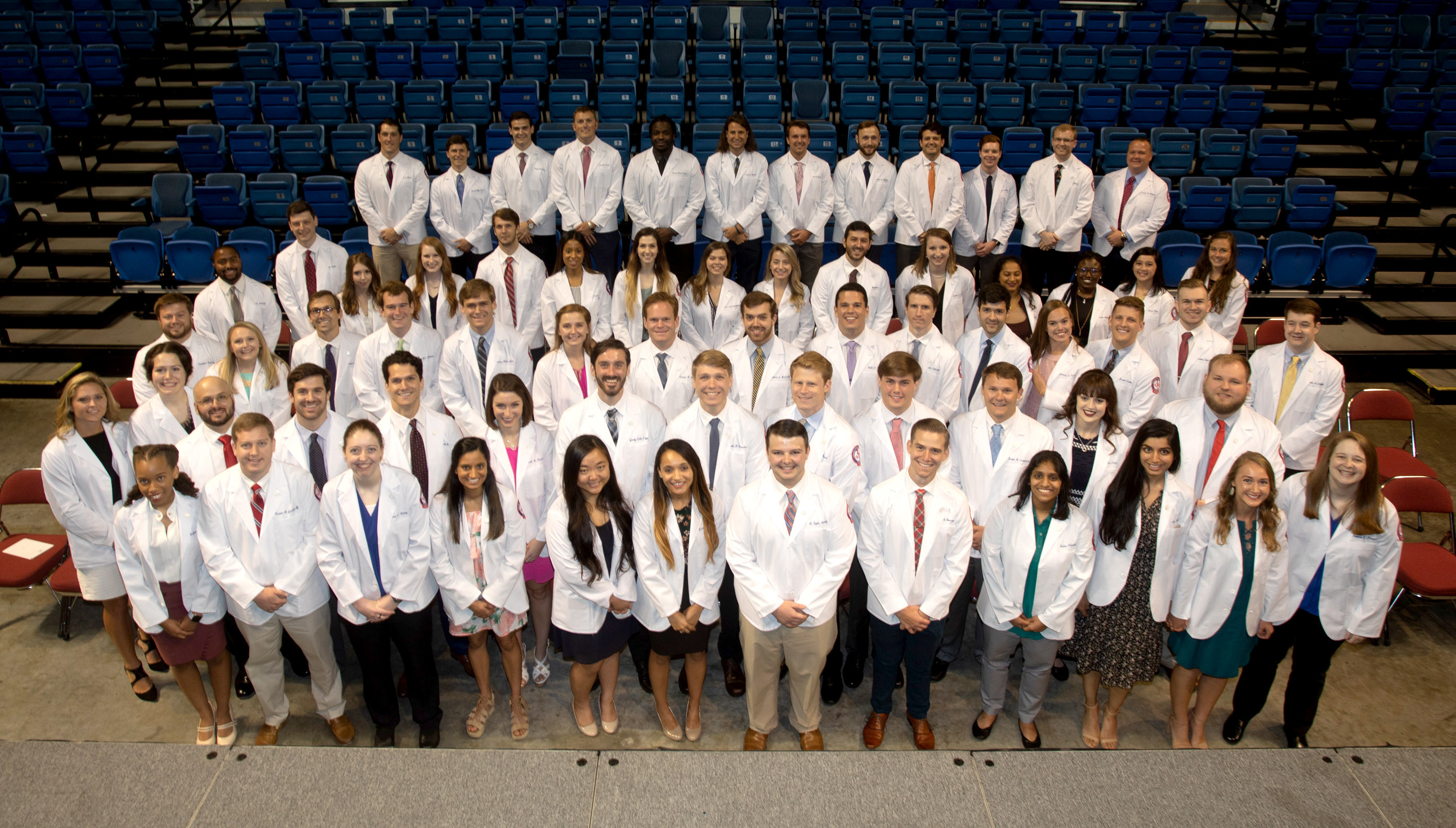 The logistics of this year's Match Day may have been different, but the spirit of the day remained the same.

Instead of gathering in one room and opening their envelopes simultaneously, most medical students opened their emails to find out where they would be doing their residency training. And rather than taking the stage to announce their placements and pin them on a map, students took to social media to share their news.

"Because of our duty to our community as responsible current and future healthcare providers, we have had to cancel aggregated Match Day celebrations for these soon-to-be graduates of our program," said Kelly Roveda, M.D., associate dean of student affairs at the University of South Alabama College of Medicine. "As future healthcare providers who will be on the frontlines of providing care in their communities nationwide, our COM students recognize these responsibilities. We in the USA College of Medicine are confident that our rising physicians are ready to answer this call to serve."

"The inability for us to celebrate together does not diminish our pride and excitement for our students," Roveda added.

After interviewing with residency programs across the nation, medical students ranked their top-choice programs in order of preference. Training programs, in turn, ranked the students who interviewed. The National Resident Matching Program (NRMP) then used a mathematical algorithm to designate each applicant into a residency program. Nationally, nearly 45,000 applicants competed for 34,266 residency positions.

The process culminated on March 20, 2020 – Match Day – when USA College of Medicine seniors learned the results of the NRMP's Main Residency Match. This year, USA medical students matched in 23 states, with 42 students matching out of state and 23 students matching in the state of Alabama. Eight of those students matching in Alabama matched at USA Health hospitals.

"Transitioning from the realm of undergraduate medical education to graduate medical education is what our College of Medicine students begin planning early in their studies," Roveda said. "The questions they ask themselves are numerous and include: 'What specialty will I choose? What is the length of the training program? Where will I pursue my training? Will I pursue a fellowship? How will my decisions affect my family?' Some of these questions were answered for our medical students today."

Married medical students Josh and Taylor Ousley tackled those questions together. According to the NRMP, when applicants participate in the match as a couple, they match to the most preferred pair of programs on their rank order lists where each partner has been offered a position.

"Our biggest factors we considered when applying to residency were that we wanted to have a successful couples match and end up together, and we wanted to stay in the Southeast to be close to both of our families," said Josh Ousley of Alabaster, Alabama.

The couple matched at the University of Alabama at Birmingham Hospital, where Josh will train in internal medicine and Taylor will train in psychiatry.

The pair met and started dating during their first year of undergrad at the University of Alabama at Birmingham. They applied for early decision and were accepted into the USA College of Medicine's class of 2020. On New Year's Eve of their first year of medical school, Josh proposed to Taylor at the Moon Pie Drop in downtown Mobile. They married five months later on June 3, 2017.

"The past four years of us both being in medical school has been a learning experience for us as we started our marriage, but it has also been one of the most rewarding and fulfilling times of my life. We have really learned to rely on each other for support and this has made our marriage that much stronger," said Taylor Ousley of Helena, Alabama. "Medical school is hard for anyone, but I think it made it easier to always have someone by my side going through the same thing that I was."

Jazmín Scott of St. Martin, Mississippi, learned her results in December as part of the military match. But, she kept her placement a secret from her family and friends until the rest of her classmates found out on Match Day. She matched in psychiatry at Tripler Army Medical Center in Hawaii.

Having grown up with both parents in the military, Scott made the decision to join the U.S. Army as a senior in high school. The decision to go into medicine came later. She graduated from the University of Oklahoma with a degree in health and exercise science but felt unfulfilled in her career.

"I spent a lot of time that summer exploring my options and realized that a career in medicine would give me the opportunity to give back to the community," she said.

The Health Professions Scholarship Program offered by the military allowed Scott to pursue medical school at the USA College of Medicine, where she has formed close friendships and had a positive educational experience.

"Recently, I had the best experience of seeing a patient again after over a year and realizing that they remembered me, too," Scott said. "It was really meaningful to me because I was glad to see how well they were doing, but it was also incredible to realize that I had made a positive impact on another person."

Will Martin of Spanish Fort, Alabama, knew from an early age that he wanted to be a doctor. As a Native American, he watched family members manage chronic health issues such as heart disease and diabetes. When Martin graduates from the USA College of Medicine, he will become the first physician from his tribe, the Poarch Band of Creek Indians.

"I hope that my path to higher-level education provides encouragement and guidance to those who come behind me seeking advanced knowledge," he said. "It was not until the late 1960s that members of my tribe were even allowed to attend education higher than the 6th grade. Therefore, there is not as much as a push for tribal members to strive for upper-level education, and I hope to change this mindset."

Martin, who matched in anesthesiology at Wake Forest Baptist Medical Center in Winston-Salem, North Carolina, is grateful for the hands-on education he received at the USA College of Medicine.

He remembers seeing an active code in the emergency department and volunteering to assist with CPR. "While I was giving compressions, I felt the patient's heart knock against my palms," he said. "That was the moment I realized that my actions truly had an impact on the life of another human being."

Another impactful experience for Martin was participating in the Christian Medical Ministry of South Alabama's recent mission trip to Rwanda, where the group "learned how to use our gifts as medical professionals to glorify God in all that we do," he said

Bonnie Holley of Arab, Alabama, was also among the volunteers in Rwanda. The trip marked her fourth mission as a USA medical student, having traveled to Senegal, Honduras and Costa Rica in past years.

"I have always had a heart for overseas mission work, and I thought I wanted to be an engineer to help create clean water projects and other infrastructure in developing nations," Holley said. "However, over time I realized that engineering just wasn't for me."

So, after two years of studying engineering at Auburn University, Holley changed her major to biomedical sciences and later applied to medical school at the USA College of Medicine.

With the intent to do global mission work after completing her residency training, she said, "I tried to choose programs that have a rural surgery focus and/or a wide variety of operative training as I will likely have a very broad scope of practice wherever I end up."

Holley matched in general surgery at Gundersen Lutheran Medical Center in LaCrosse, Wisconsin.

Growing up in Birmingham, Destini Smith knew not only that she wanted to be a doctor but also what specialty.

"I knew I wanted to be a child neurologist ever since I was little and have it documented in my journal," said Smith, who matched in child neurology at UAB Hospital. "I have grown up wanting to be the doctor to care for children with seizures, and that has continued to be a passion of mine to this day."

In her first year at the USA College of Medicine, Smith went to a meeting for the Student Interest Group in Neurology, but she was the only student in attendance. Now she serves as president of the interest group, which has significantly higher meeting attendance these days.

A highlight of her medical education was performing research with Errol Crook, M.D., professor and Abraham Mitchell Chair of Internal Medicine, and Kenneth Hudson, Ph.D., associate professor of sociology and anthropology at USA. Their work, which was published in Preventative Medicine Reports, focused on healthcare utilization and the doctor-patient relationship.

Davis Diamond of Norcross, Georgia, said one of the most impactful experiences for him was working with the underserved population in Mobile during his third year. "As M3s, South gives us enough autonomy so that we can get to know our patients on a personal level," he said.

On campus, Diamond has been involved in the Curriculum Committee as well as the Student Promotion and Evaluation Committee. He also helped to restart the Dermatology Interest Group, which he hopes leads more USA medical students to pursue the field in the future.

After a transitional year at WellStar Kennestone Regional Medical Center in Marietta, Georgia, Diamond will begin his residency training in dermatology at the Medical College of Georgia in Augusta.

"This is a goal I have been working towards for about a decade, with the final payoff being landing a residency spot in my desired specialty of dermatology. I have been so lucky to have an amazing support system in my wife, family and friends. I just want to make them proud," Diamond said. "This is an extremely long, arduous (but also fun!) process, so it is nice to know where my training and journey will culminate, and to finally have the opportunity to give back to all those who have sacrificed for me along the way."

View the full 2020 Match Day results.