USA College of Medicine faculty member Meghan Hermance, Ph.D., discusses new research on the disease-spreading parasites for the CDC podcast Emerging Infectious Disease.
Published Apr 26th, 2022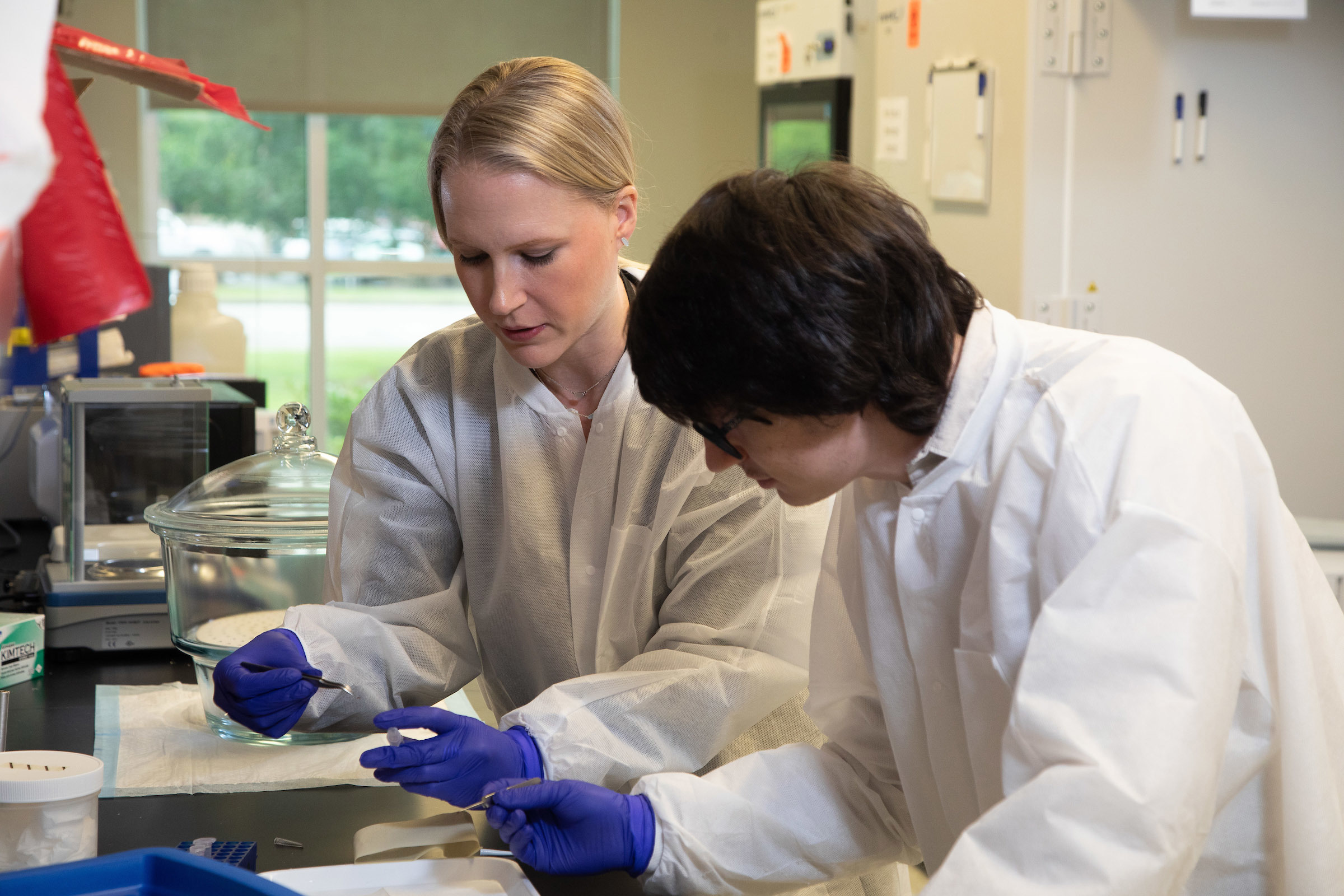 In a quest to better understand the interactions between ticks, viruses and mammals, scientist Meghan Hermance, Ph.D., and her colleagues at the USA College of Medicine, recently conducted research to determine if they could successfully infect a specific species of tick with a pathogen known as Heartland virus.
Turns out, with the use of tiny glass needles, tape and a microscope—and a very steady hand—they could. Exactly how they were able to infect live Asian Longhorned ticks and their offspring with the virus is the topic of a new research paper published in the March 2022 issue of the Emerging Infectious Diseases journal.
While USA researchers demonstrated that Asian Longhorned ticks could be infected in a lab with Heartland virus, and then pass it to their offspring, further studies should be conducted, notes Hermance, to demonstrate whether this invasive tick native to Asia can transmit Heartland virus during co-feeding with other species of ticks found in North America. This form of co-feeding transmission between ticks on the same vertebrate host would be a major step in promoting the environmental spread of the virus.
Hermance, an assistant professor of microbiology and immunology at the College of Medicine, was interviewed about tick infection and transmission of Heartland virus in a lab setting for the Centers for Disease Control and Prevention's podcast Emerging Infectious Diseases. The interview was distributed April 14 on Apple Podcasts and other platforms.
During the discussion, Hermance explains the public health threat from ticks and why it's critical to better understand the contributing factors related to emerging tick-borne virus transmission in the United States and beyond.
Discovered on a New Jersey farm in 2017, the invasive Asian Longhorned tick is unlike other parasites found in wooded areas. A single female tick can produce up to 2,000 fertile eggs at a time and doesn't require a mate to reproduce. The pest represents a new and emerging disease threat because it appears to be capable of maintaining and transmitting North American tick-borne viruses, such as Heartland virus and Deer tick virus, which are closely related to the viruses this tick is known to transmit in Asia, Hermance said.
The new research, largely conducted by Wilson R. Raney in the Hermance lab, was funded by a two-year grant from the National Institute of Allergy and Infectious Diseases.