Alabama HOPE Project
Join USA Health and the Mitchell Cancer Institute for an upcoming Zoom orientation and online training to learn more about screenings and prevention of breast, cervical, lung, skin and colon cancer, all while learning ways to advocate for cancer prevention in your community.

When:
Jun 17, 2020
2:00 PM - 3:00 PM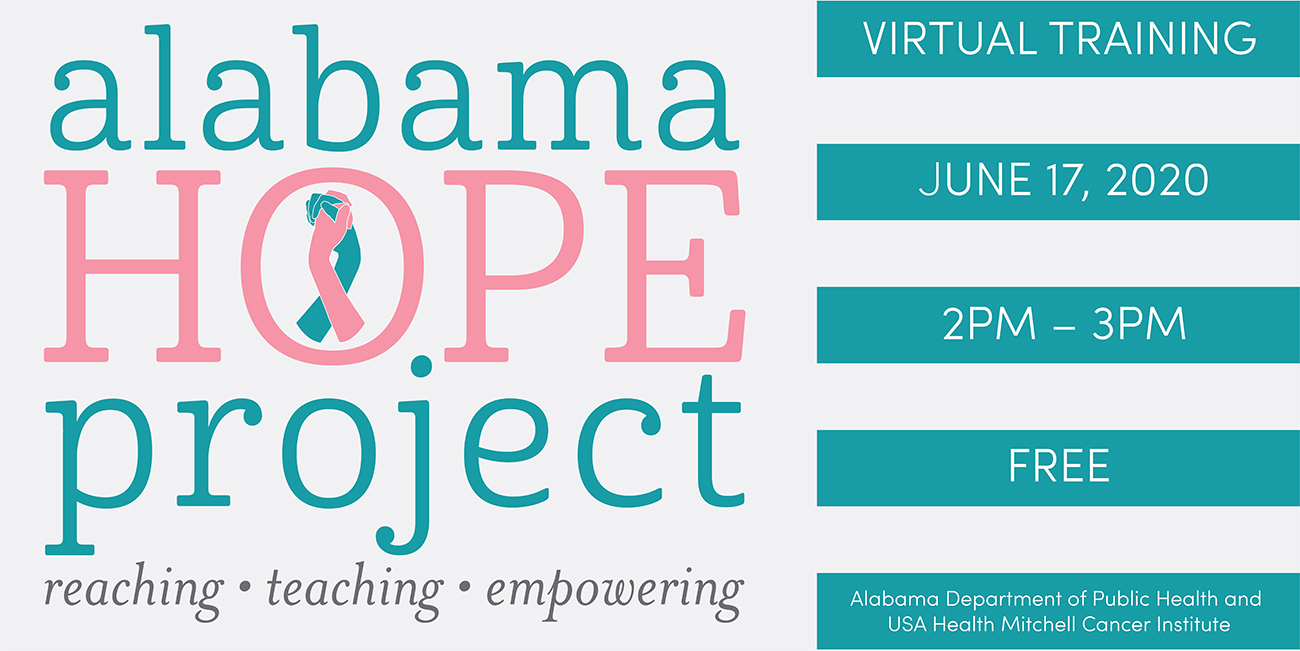 The Alabama HOPE (Health Outreach Prevention and Engagement) Project is an initiative through the Alabama Department of Public Health and USA Health Mitchell Cancer Institute that aims at utilizing peer mentorship to educate and advocate for better cancer screening and prevention in communities throughout the state of Alabama.
Attendance will also give you access to the following educational sessions:
Dr. Teja Poosarla, Mitchell Cancer Institute medical oncologist and breast cancer expert, will discuss what you need to know about breast cancer as well as updated screening guidelines.
Dr. Jennifer Pierce, leader of Cancer Control and Prevention at the Mitchell Cancer Institute and gynecologic oncologist, will discuss lung, skin and colon cancer and how to prevent them and give updated screening guidelines.
Dr. Sara Stringfellow, resident physician in obstetrics and gynecology at USA Health, will share what you need to know about cervical cancer, vaccination for HPV and updated screening guidelines for cervical cancer.
To participate, visit the sign up page.
This link will open in a new tab or window.