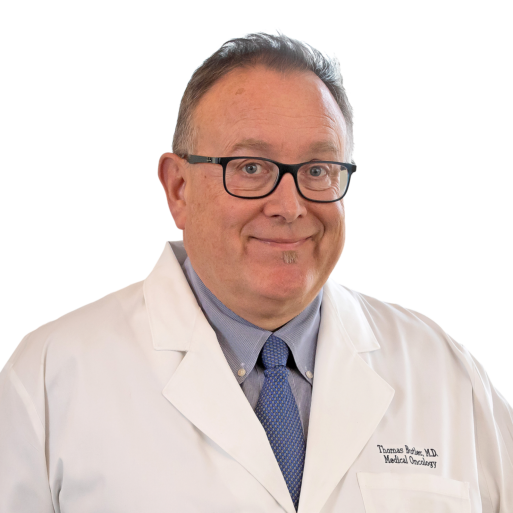 Thomas W. Butler, M.D.
Medical Oncologist and Hematologist
Associate Professor of Interdisciplinary Oncology
Specialty: Cancer Care
Patient Reviews
"I always get treated very cared for and respected. I love Dr. Butler and his team."
"Dr. Butler cures cancer!"
Conditions Treated
Anemia
Bleeding Disorders
Brain Cancer
Breast Cancer
Colon Cancer
Colorectal Cancer
Hemochromatosis
Liver Metastases
Lung Cancer
Melanoma
Metastatic Disease
Pancreatic Cancer
Polycythemia Vera
Prostate Cancer
Secondary Liver Cancer
Skin Cancer
Stomach Cancer
Thrombosis
Board Certifications
American Board of Internal Medicine
Certification in Medical Oncology and Hematology
Education
Medical School: University of Tennessee | Memphis, TN
Residency: University of Tennessee | Chattanooga, TN
Fellowship (Hematology and Oncology): University of Alabama at Birmingham | Birmingham, AL
Professional Memberships
American College of Physicians, Fellow
American Society of Clinical Oncology (ASCO)
American Society of Hematology (ASH)
Medical Association of the State of Alabama (MASA)
Multinational Association of Supportive Care in Cancer (MASCC)
Research Interests
Palliative Care
Cancer-Related Fatigue
Cancer-Associated Thrombosis
Psych-Oncology
This link will open in a new tab or window.