USA Health Children's & Women's Hospital focuses on continuous patient care improvement with opening of new Women's Complex Surgical Care Unit.
Published May 12th, 2021
By Casandra Andrews
candrews@health.southalabama.edu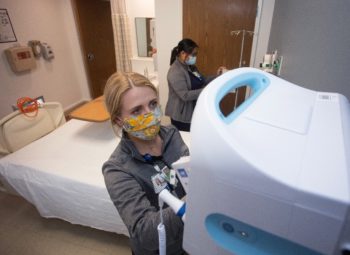 To better serve the specialized needs of female patients following certain surgeries, a Women's Complex Surgical Care Unit opened on Tuesday, May 11, at USA Health Children's & Women's Hospital.
The nine-bed unit, consisting of all private rooms, is a new post-surgical area for women who require a close level of monitoring and observation following OB-GYN and oncology-related surgeries performed at the hospital. Located on the third floor of the women's tower, the unit includes a new nurse's station, leading-edge monitoring capabilities and staff specially trained to best care for female patients following complex surgeries.
The unit also can accommodate those who have returned for care after discharge, said Lisa Mestas, M.S.N., chief nursing officer and associate system administrator for USA Health. A goal for the unit is to help patients recover from surgery and to ultimately prevent transitions to a higher level of care.
A commitment to patient education after surgery also is a priority for the staff, Mestas said. Depending on the surgery performed, patients may receive additional information on topics such as drain care, wound care, body movement and exercises, and details on any upcoming therapies associated with their recovery.
"It's exciting to see the development of a unit dedicated to the different needs of women undergoing complex surgeries," said William Richards, M.D., F.A.C.S., professor and chair of surgery at USA Health and the University of South Alabama College of Medicine.