Mitchell Cancer Institute receives grants to help patients with transportation, lodging
Cancer patients undergoing treatment frequently require assistance getting to and from facilities, often creating a financial and logistical burden.
Published May 27th, 2022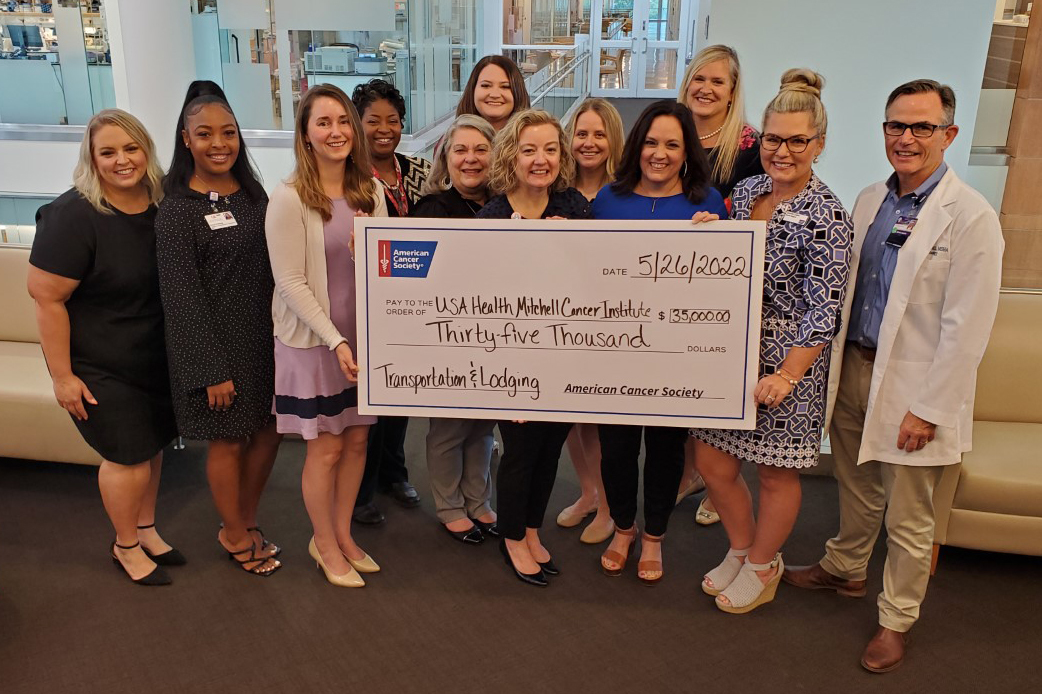 By Carol McPhail
cmcphail@health.southalabama.edu
The USA Health Mitchell Cancer Institute has been awarded grants totaling $35,000 from the American Cancer Society to help patients with transportation and lodging needs during their treatment.
Patient transportation and lodging grants from the American Cancer Society, awarded at a local level to health systems, treatment centers and community organizations, are intended to address these access-to-care needs for cancer patients and ultimately help save lives.
The grants awarded to the MCI include $25,000 for patient lodging and $10,000 for patient transportation.
"There are times when an oncology patient must travel from out of town to receive treatment, and the financial expenses can be a barrier to care," said Sheila McElhany, B.S.W., associate manager of patient support care services for the MCI. "Helping patients with lodging and transportation can reduce the financial burden and make it easier for them to get the life-saving treatment they need."
An estimated 30,210 Alabama residents will learn they have cancer this year, and getting to their scheduled treatment may be one of their greatest roadblocks. American Cancer Society patient transportation and lodging grants are available in select communities through an application process and focus on addressing unmet access-to-care needs of cancer patients, particularly vulnerable populations experiencing an unequal burden of cancer.
The MCI works with local hotels and other organizations that partner with USA Health to provide free services for patients and their caregivers.
"Disparities predominantly arise from inequities in work, wealth, income, education, housing and overall standard of living, as well as social barriers to high-quality cancer prevention, early detection, and treatment services," said Kimberly Williams, cancer control strategic partnerships manager for the American Cancer Society South Region in Birmingham. "ACS collaborates with community health partners to reach individuals in areas with higher burdens of cancer and with little to no access to transportation or lodging because even the best treatment can't work if a patient can't get there."