Shannon Scaturro brings a significant amount of experience in hospital administration as he returns to the university where he started his healthcare career more than 25 years ago.
Published Dec 1st, 2021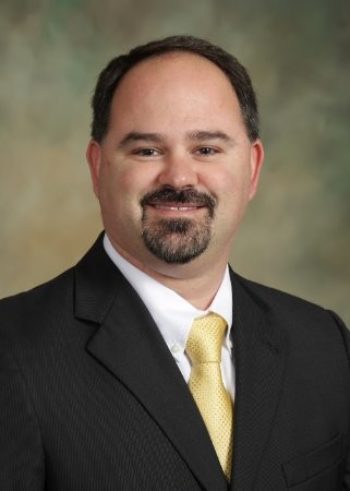 USA Health has named Shannon Scaturro, MSHA, MSN, CRNA, FACHE, the next hospital administrator for University Hospital and assistant vice president for medical affairs. He will join USA Health on Jan. 1, 2022.
"Shannon brings a significant amount of experience in hospital administration with him," said Owen Bailey, MSHA, FACHE, chief executive officer of USA Health. "He has worked with academic medical centers like USA Health and understands the unique role we play in the healthcare environment. We are excited to bring him back to Mobile."
"I look forward to serving the Mobile-area community and returning to the wonderful university where I started my healthcare career more than 25 years ago," Scaturro said. "University Hospital has world-class physicians, nurses and associates, and I am privileged to support them and extend the impact USA Health is making in the region."
In addition to overseeing the daily operations at University Hospital, Scaturro will be responsible for working with physician and health system leadership in the development of new, strategic healthcare offerings that meet the needs of patients, as well as adding to the educational and research missions of USA Health. He also will work with leaders to enhance USA Health's – and, in particular, University Hospital's -- focus on delivering patient-centered, high-quality healthcare.
After spending 16 years in the Mobile area, Scaturro moved to Birmingham, where he now is the vice president of operations for Ascension St. Vincent's Birmingham. In his current role, he has been the lead of operations with responsibility for all procedural, ancillary and support services.
Experienced in collaborating with academic health systems, Scaturro serves as the co-chair for the surgery and oncology services lines for the St. Vincent's/UAB Health System Alliance. Among other responsibilities, he has overseen the gastrointestinal service line growth plan, as well as served as the co-lead for laboratory services at the shared COVID test site.
Prior to moving to Birmingham, Scaturro spent nine years at Providence Hospital in Mobile, rising to become the vice president of operations and surgical services while continuing to work as a certified registered nurse anesthetist. He served as the president of the Alabama Association of Nurse Anesthetists after six years with United Anesthesia Resources, a company he owned and founded.
He earned his Bachelor of Science in Nursing at the University of South Alabama and his Master of Science in Nursing with an anesthesia concentration at the University of Tennessee. He later received his Master of Science in Healthcare Administration from the University of Alabama at Birmingham.
In addition to being a Fellow of the American College of Healthcare Executives, Scaturro serves on the Alabama Workforce Development, Healthcare task force and is a member of the Samford University School of Nursing Advisory Board.