Mitchell Cancer Institute expands patient care with new breast cancer specialist
Ayesha Munir, M.D., recently served as the chief hematology/oncology fellow at Medstar Health Georgetown University Hospital/Washington Hospital Center in Washington, D.C.
Published Aug 3rd, 2023
By Carol McPhail
cmcphail@health.southalabama.edu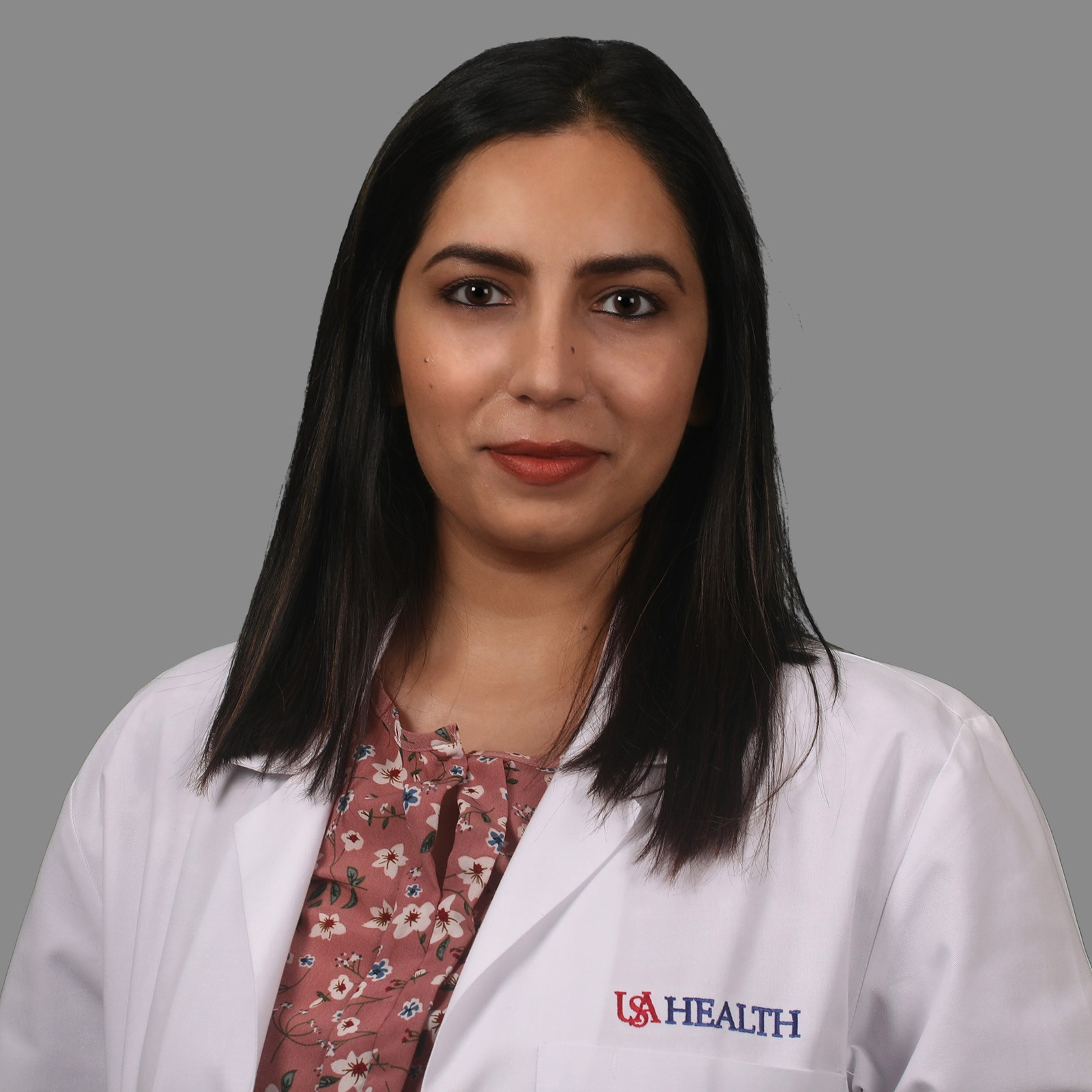 Ayesha Munir, M.D., a hematologist/medical oncologist with an interest in health disparities, has joined the USA Health Mitchell Cancer Institute as a breast cancer specialist and assistant professor of interdisciplinary clinical oncology.
Munir comes to USA Health from Medstar Health Georgetown University Hospital/Washington Hospital Center in Washington, D.C., where she served as the chief hematology/oncology fellow. She says her passion for treating cancer patients was sparked during her medical school days in Pakistan.
"The way this field has evolved over decades and the fact that it has so much potential to change the disease dynamics and landscape for cancers with its research and science have always intrigued me," she said. "I love to practice oncology to give patients battling with cancer the hope of better survival outcomes with newer treatments and drugs, and to continue to work on other aggressive and rarer tumors to bring about the same or better outcomes in the future."
Munir will focus on the treatment of breast cancer and will see patients at the main Mitchell Cancer Institute location in Mobile.
Breast cancer is the second most common cancer among U.S. women behind skin cancer. Death rates from breast cancer have decreased steadily in the past three decades because of earlier diagnoses through screening and increased awareness, along with improvements in cancer treatment. However, Black women are more likely to die from breast cancer than any other race or ethnic group, in part because one in five Black women with breast cancer have the triple-negative type, which tends to grow and spread faster and has fewer treatment options.
Munir said her research interests include quality improvement projects related to health inequity and research that aims at increasing educational awareness in medical oncology. She has been a co-author on several peer-reviewed journal articles on such topics as acute myeloid leukemia, lung adenocarcinoma, and renal cell carcinoma.
Munir said she wanted to join an academic health system to complement her career path. "I am interested in teaching and mentoring, and also wanted to invest my time in the research aspect of medical oncology," she said.
Munir earned her medical degree from Aga Khan University Medical College in Pakistan and completed a residency in internal medicine at Albany Medical Center in Albany, N.Y. She recently completed her fellowship in hematology/oncology in Washington, D.C.