Almalouf, Brown honored with community health leadership awards
Brittany Brown and Philip Almalouf, M.D., were selected from a pool of public nominations, which were chosen with their dedication to action, awareness and diversity in mind. They will be recognized at a luncheon in May.
Published Feb 9th, 2023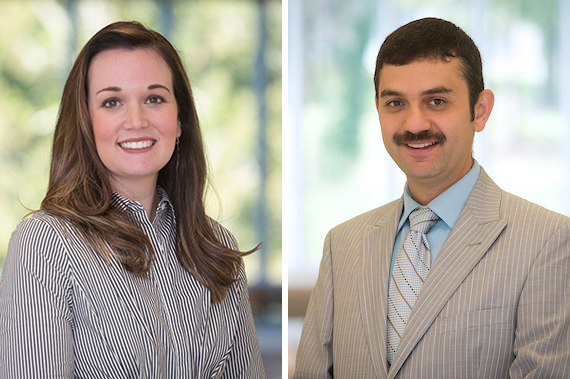 By Michelle Ryan
mryan@health.southalabama.edu
Two USA Health employees have been tapped as local leaders in education, awareness and action around Mobile's most urgent community health issues.
Philip Almalouf, M.D., pulmonologist and assistant professor of internal medicine, and Brittany Brown, director of operations for internal medicine, are among the fourth annual class of Mobile Community Health Leadership Award honorees.
"The exemplary work of these outstanding Mobilians reminds us that community health is our collective responsibility," said Daryn Glassbrook, Ph.D., executive director of the Mobile Medical Museum, which bestows the awards. "Our healthcare system is much more resilient in times of crisis when everyone acts with intention throughout the year to keep themselves and their neighbors as healthy as can be."
Almalouf and Brown will be recognized on Saturday, May 20, 2023, during an outdoor luncheon on the museum grounds.
Both were selected from a pool of public nominations, which were reviewed by museum staff and chosen with their dedication to action, awareness and diversity in mind. Glassbrook said the two USA Health employees stood out for their exceptional leadership and multiple contributions to the Mobile area.
"Dr. Almalouf is a respected pulmonologist at a time when we are coming off a seasonal spike in RSV, the flu and ongoing COVID cases. His positive attitude in the ICU lifts others up during times of extreme stress. Additionally, he is an outstanding teacher and mentor to residents and medical students," he said.
"Mrs. Brown works diligently at building partnerships between USA Health and other healthcare providers to improve population health in at-risk communities. She is also a compassionate youth advocate and a leader in nursing."
Almalouf, a native of Damascus, Syria, came to Mobile as a pulmonary critical care fellow in 2009, and he has felt compelled to make a difference ever since.
"This award means so much to me. As an immigrant, I'm very appreciative of this community that has accepted me," he said. "It's a great honor."
Working in pulmonary critical care, Almalouf said there has been no shortage of ways to make a difference, including treating patients with COPD and asthma, counseling smokers through cessation programs, educating youth about the dangers of vaping, and of course, the challenges of delivering high-quality service in the ICU and pulmonary clinics during the height of COVID.
"It's very challenging, but very rewarding," he said. "I feel it's my duty to give back to the community I love. That's why I work hard at USA Health and volunteer at Victory Health Partners to set a prime example to our trainees in service and leadership."
Serving the community is very special to Almalouf, and that drives his work with Victory Health Partners, a local faith-based medical practice for those ages 19 to 64 who are uninsured.
"Optimizing the delivery of healthcare to focus on underserved and systemically disadvantaged populations needs medical leadership to guide the community in the right direction to be better and healthier," he said.
Almalouf has received numerous awards, including four John Bass Awards for Teaching and the Leonard Tow Humanism in Medicine Award. He is also a Red Sash faculty member, indicating that he has been recognized by medical students for making significant contributions to their education. He was included in Mobile Bay Magazine's 2020 40 Under 40 class for efforts like these.
Brown, who is responsible for the management and direction of all aspects of operation for more than 15 specialty clinics, said she was "surprised, but humbly appreciative" to be chosen as a community health leader.
"There are so many superior leaders in our community who work hard and push the extremes for our patients, and to be recognized was certainly not expected," she said. "I am fortunate to be surrounded by a team that makes my job easier and shares the same desires to offer quality and efficient care for our patients. I couldn't accomplish anything without my team."
For Brown, creating a community and taking responsibility for its success within the healthcare setting is an essential part of leadership, and that is the foundation that allows the organization to provide first-class care to the broader community it serves.
"Leadership helps control and plan the overall environment. Individuals in leadership roles have a responsibility to lead by example, show humility, develop vision, act as a mentor, demonstrate integrity, and value collaboration," she said. "All these concepts support our USA Health mission to help people lead longer, better lives."
Prior to her leadership position, Brown served as a manager of clinical operations for the internal medicine division of USA Health Physicians Group and served as a clinical adult registered nurse at the Johnson Haynes Jr., M.D. Comprehensive Sickle Cell Center and as a pediatric critical care nurse at USA Health Children's & Women's Hospital.
In an industry that is constantly evolving, Brown credits her nursing background with her steady focus.
"My background as a nurse has provided me with the knowledge to connect at a deeper level with my providers, staff and our patients, and commit to ensuring the delivery of healthcare is the highest quality offered," she said. "My commitment to healthcare and to the patients we serve motivates me to constantly push the boundaries, and hopefully that is exemplified in the great things we are trying to accomplish."
A member of Mobile Bay's 2019 40 Under 40 class, Brown also contributes her time to Aubreigh's Army, a local cancer support organization, and shares career development expertise with area high school students.
"This community is fortunate to have so many talented citizens dedicated to healthcare," said April Livingston, president of the museum board. "It is our honor and our delight to celebrate their achievements."
During a unique time in history — when the pandemic stretched healthcare resources and workers thin — Glassbrook noted a broader significance of awards like these.
"Even though COVID-19 has subsided, maintaining a strong community health support system should be a perennial concern," he said. "We have seen how our hospitals, relief organizations and urgent care clinics can easily become overwhelmed if health risks are unaddressed when they are no longer in the spotlight. These annual awards are an excellent reminder of our responsibility for each other."